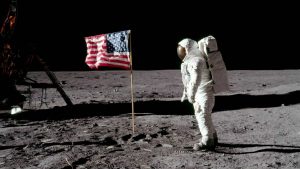 You, too, can descend from the Lunar Lander and stand on the surface of the moon, just as Apollo 11 astronauts Neil Armstrong and Buzz Aldrin did 50 years ago this weekend.
It's part of the Imagine Museum's permanent virtual reality exhibit, Imagined Realities, in which visitors don a high-quality Oculus VR headset and choose one of five virtual environments to enter for an immersive 20-minute experience.
"The whole point with the virtual reality is this: We have sculpture, we have 3D objects in space, so we're just really representing another opportunity to experience space," explains executive director Jane Buckman. "This one is virtual."
Imagined Realities has been in operation at the studio glass museum for six weeks or so, but this Saturday – the actual 50th anniversary of the first lunar landing – is going to be something special.
A shorter, more concise version of Apollo 11 VR, as it's called, has been created. Visitors can descend the stairs and take that "giant leap for mankind" as if they were there, with all the sights and sounds. It's about five minutes long, and it costs $5 (on top of regular museum admission).
"That's the real 'wow,' to experience that step," Buckman explains. "To be there, standing on the moon. And to be able to look up, and see Earth. You feel that you're actually in that space."
(The edited version was created in anticipation of a higher-than-usual turnover of Imagined Realities guests Saturday.)
Kids are invited to build a "working planetary rover" in the museum's Imagine THAT! workspace, from 11 a.m. until 2 p.m.
The day's events will also include a 2 p.m. talk and Q&A session with JerJuan Green, program director of the Boys and Girls Club at the Historic Royal Theater in Midtown; the St. Pete native is also a former NASA engineer who spent several years working at Kennedy Space Center.
Saturday hours are 10 a.m.-5 p.m. Ticket info is here.
For those who want the full Apollo 11 experience, starting today (July 18) Imagined Realities, which has previously been open only on Saturdays), is joining Imagine's after-hours Thursday lineup.
In other words, between 5 and 8 p.m. today, you can – with advance reservations – experience the  actual Saturn V launch of July 16, 1969, then fly on a trajectory to the moon, circle, land, descend and walk. One small step, one giant leap, the whole experience.
Tickets for all full-length VR experiences are a $10 upcharge on museum admission, which is reduced to $5 from 5 to 8 Thursdays. Again, go here to clarify!
The other available Imagined Realities experiences are Google Earth VR (explore our planet), Overview (explore our galaxy), Tilt Brush (paint in 3D space) and The Body (tour the bloodstream and see how the human body works).
All five will be fully operational Thursday 5-8 p.m.; on Saturday, only the "moonwalk" segment of Apollo 11 will be available.
Clarinet, bassoon and piano
Brian Moorhead, a USF music professor who was principal clarinetist with the Florida Orchestra for most of the 44 years he spent there, will perform with bassoonist Mark Sforzini – and pianist Justin Havard – as the Premium Blend Trio Sunday at the Museum of Fine Arts St. Petersburg. The 2 p.m. recital is part of the MFA's Marly Music Series.
Sforzini, of course, is the founder and artistic director of the St. Petersburg Opera Company, and musical director of the Tampa Bay Symphony. Prior to that, he spent 14 years as principal bassoonist with the Florida Orchestra.
Sitting next to one another in the orchestral ranks, Sforzini says, "The two of us developed great trust and respect for each other through the years. You can become very attuned to the person next to you, and we often breathed and shaped phrases as one."
The highlight of Sunday's varied program will be Sforzini's own Concerto for Clarinet, Bassoon and Piano. Tickets and info here.
Onstage this weekend
Bill Leavengood's musical political satire Drilled! bows tonight at the Palladium; read about it here. Likewise, music's in the air at freeFall Theatre (with a re-worked Pippin) and at American Stage (the 2015 Tony winner Fun Home has a preview tonight, and officially opens Friday).
The Catalyst also recommends: Jobsite Theatre's Constellations, inside the Straz Center complex in Tampa. More here.
Are you a performing arts space, large, small or in-between, an art gallery, a bookshop or any place where public cultural events take place? Please put us on your email list – we can't publicize you if we don't know what (or who) you are! The address is bill@stpetecatalyst.com. Thanks.