Mother Nature finally turned the heat back up, and we Floridians are back to boasting our beautiful weather to our northern neighbors. Take advantage of our good fortune and explore this weekend. We've got all kinds of great things for you to do indoors and out. From craft tours of all kinds to indie markets to wine, yoga, and cocao – this weekend will not disappoint. Here comes The Weekender. 
THURSDAY JAN 25TH
Yonder Mountain String Band with Old Salt Union at Jannus Live
Purchase tickets here: https://www.daddykool.com/tickets/yonder-mountain-string-band/
Fine Art after 5pm: reduced admission to The Dali Museum & MFA
Fine art can be pricey. Thursdays after 5pm, visit the Dali for just $10, and the MFA for $5. Have a glass of wine and stroll the museums for the perfect Happy Hour.
More Dali Museum information can be found here.
Museum of Fine Arts information can be found here.
Be sure to check out the MFA's Star Wars & the Power of Costume exhibit before it's gone. 
FRIDAY JAN 26TH
Indie Market Nights Exchange
It's the 1st Night's Exchange of 2018! You will not want to miss the collaboration with Green Bench Brewing Co., and Florida Folk Scene! Catch the Indie Market Nights Exchange every 4th Friday. The night market featuring dozens of vendors, Music, and Craft Beer Legends. Event runs from 7pm to 11pm.
HYbar Happy Hour
Hit the bar at St. Pete's newest hotel – The Hyatt Place St. Pete. Celebrate your long week with a cold craft cocktail or local craft brew while listening to local live music! This high brow happy hour happens every Friday night, with beautiful views and great deals.  Happy Hour runs from 4:30pm-7:30pm.

SATURDAY JAN 27TH
Dali and Beyond Film Series: Coco Before Chanel
The Dalí & Beyond Film Series features an eclectic selection of films – both familiar and fantastic – with monthly themes ranging from horror, experimental and psychological to kid-friendly and world cinema. Before we bid adieu to our special exhibition, Dalí and Schiaparelli, we invite you to enter Schiaparelli's world of early 20th century Paris during this month's Saturday films. This week: Coco Before Chanel
Running for (Coffee) Brews!
Join Run For Brews every Saturday morning at 8am for a FREE 5K run in DTSP, followed by coffee and breakfast at Mickey's Cafe on Central! The 5K is a beautiful waterfront route in downtown St. Pete… and runners receive 10% off food and drinks at Mickey's on their return! Kick that New Years Resolution into full gear and get running! All levels are welcome…walkers, runners, joggers! If you haven't already signed a waiver, please do so at www.runningforbrews.com.
Saturday Morning Market at Al Lang Stadium
St. Pete's favorite way to say good morning is back on Beach Drive! After spending the summer in Williams Park, the Market is back with all of the goods – and eats – to make your Saturday morning sweet. Stop by Al Lang Stadium Parking lot from 9am to 2pm. For more information, visit their website: http://saturdaymorningmarket.com/
Masters of Illusion at The Mahaffey
Nothing beats the experience of seeing a magic show in person.
Masters of Illusion, America's largest touring magic show, returns on their "Believe the Impossible" tour. You will see grand illusions, levitating women, appearances, vanishes, escapes, comedy, magic, sleight of hand and beautiful dancers all rolled up into one live show! Only the best, most unique, amusing, astounding and amazing performers have been chosen to perform in this huge stage phenomenon. Show starts at 8pm. Tickets available here. 
St. Petersburg Craft Coffee Tour
Come experience Florida's first and best coffee crawl! You'll try amazing drinks, learn a lot about coffee, and make new friends. This tour will hit three stops from 9 AM – 12 PM. This Saturday's tour will feature a BRAND NEW stop. Don't miss out! $30 Tickets here: http://stpetecoffeetour.com/product/january-27th-saturday-9-am-st-petersburg/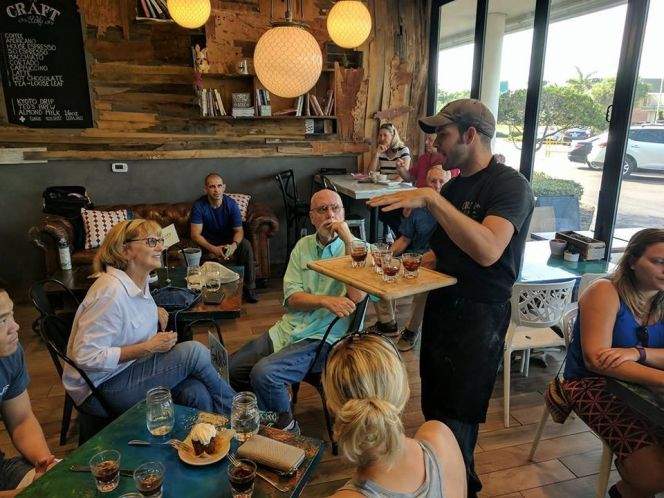 SUNDAY JAN 28TH
Cacaoga® at Station House
Warm mug of cacao. Heart-opening asana. Metta meditation. Pure bliss. A practice designed for individuals of all yoga and spiritual backgrounds, Cacaoga® unifies sacred cacao with gentle, heart-centered yoga and meditation. A typical Cacaoga® class includes: Short informational session on the history, physical makeup, and spiritual/shamanic properties of cacao, breathwork or pranayama practice, all-levels yoga sequence designed to open the heart and other areas of the body where we often carry emotional pain or distress. By donation, 3:00pm.
Painting and Pouring at Wine Madonna
Stop by Wine Madonna and discover your inner artist while savoring your favorite vino. No experience, no problem! They make painting fun again. Admission is $32 and includes: canvas, paint, paint brushes, apron, bar snacks, and FUN. Tickets here. 
Yoga at the Dali
From 10:30-11:45am every Sunday. Join Lucky Cat Yoga every Sunday at The Dali – a remarkable environment where Dali's energy infuses the physical, mental and spiritual inspiration of yoga. Classes are held in the Raymond James Community Room or Avant-Garden, both with incredible views of the waterfront.
The Lucky Cats teach vinyasa yoga, an all-levels approach that incorporates an interplay of basic breath work, postures, meditation and relaxation. Each student is encouraged to awaken and sustain their practice at their own pace. Please arrive early on a light stomach. Don't have a mat? We have several on hand to lend.
Cost: $10 members and students, $15 non-members.
Masterpieces & Mimosas at the Dali Museum
Let's get (Sur)real. What could be better than a Spanish brunch, complete with mimosas AND the wild works of Salvador Dali? No comparison. Grab a companion for your journey into weird and wonderful from 11 to 4pm in the museum's Gala Cafe.