Nestled along the picturesque Beach Drive, a new gem has emerged to celebrate the quintessential Florida lifestyle. Pink Soleil is a newly opened fashion boutique offering a curated collection of brands that capture the essence of sunny days and beachfront elegance.
Located at 400 Beach Drive NE in Suite 146, Pink Soleil radiates a bright and welcoming ambiance. The boutique's interior is bathed in soft, pastel hues and tastefully decorated with elements inspired by coastal living. The boutique, which opened its doors in April 2023, offers a range of products, including clothing, jewelry, accessories, home decor, and gifts.
"I feel like we're really becoming part of the downtown, which has been wonderful," says Kelly Homman, the owner and head fashion connoisseur at Pink Soleil. "Our shoppers are actually more locals than tourists, so we really love that because we really want to be here for our neighbors and let them enjoy the store."
After graduating from college with a degree in fashion merchandising, Homman spent years as a fashion buyer for a major retailer, operating a dance studio in partnership with the YMCA, and working for Kate Spade New York. But Homman says her heart always yearned for her own business, which eventually brought her family back to St. Petersburg.
"My husband actually grew up here in St. Pete on the pink streets, so we've had roots here for a very long time," says Homann. "I felt that we were missing a Florida-style boutique here, so I reached out to Lilly Pulitzer to be able to carry the brand and when they said yes, I just felt the best spot was Beach Drive because we're more classic-style clothing that just never goes out of style. I felt like we could represent Beach Drive really well and Beach Drive represents us well, so it's a perfect pairing."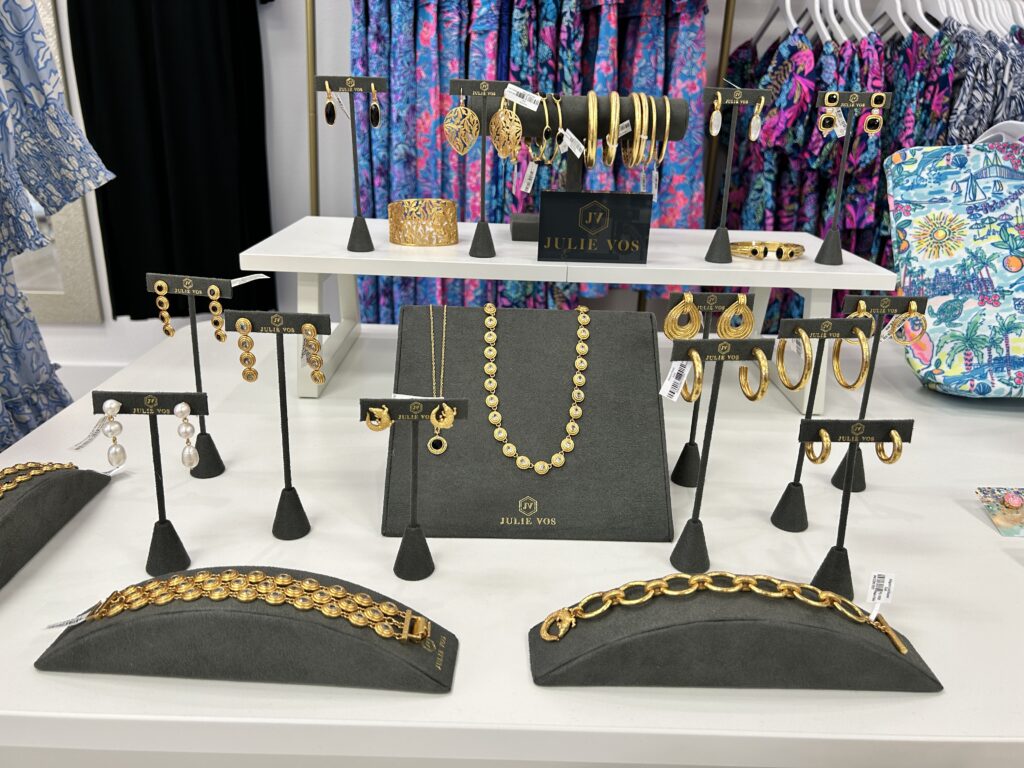 .
Pink Soleil is truly a celebration of the Florida lifestyle with its meticulously curated collection of brands like Lilly Pulitzer, Sail to Sable, Julie Vos Jewelry and more. Homman says their most popular brand is, without a doubt, Lily Pulitzer, a fashion powerhouse with humble roots in Palm Beach. According to the brand's website, in "1959-ish", Lilly Pulitzer opened a juice stand in Palm Beach and asked her dressmaker for a uniform that would camouflage splashes of citrus juice. The brand has certainly stayed true to its roots, showcasing the vibrant hues and timeless styles that fill the racks at Pink Soleil.
The resort-chic boutique also carries an exclusive St. Petersburg-themed print by Smith & Quinn. Bright oranges, blue dolphins, pink manatees and immediately recognizable St. Pete landmarks bring the print to life, which shoppers can find on two styles of dresses, a skort, a tote and a makeup bag. 

.
From swimwear to resort apparel, accessories, and lifestyle products, every item in the store has been carefully selected to capture the essence of Florida's sunny lifestyle.
"Women will walk in and they're in dark colors, but when they put on some of the bright prints or a brighter color, they get this glow about them and they stand a little taller," says Homman.
"My goal is to brighten St. Pete," she adds with a smile. So far, Pink Soleil is certainly succeeding. The next time you're on Beach Drive, don't forget to step into Pink Soleil and let the sunshine in, or shop online at pinksoleilstpete.com.
.