The newest member of the bustling 600 block of Central Avenue brings healthy, delicious, and gluten-free food to DTSP. Check out Brass Bowl Kitchen & Juicery!
(Image from Brass Bowl Kitchen & Juicery Facebook Page)
The restaurant is divided into two sections: the juice bar in the front and the kitchen behind. The juice bar serves fresh-squeezed juices, juice bowls, and tonic & elixir shots. Juice is made fresh each night to be served and sold the following day in mixtures like the Blue Wave (pomegranate, blueberry, beet, acai berry, blue algae) and The Detox (cranberry, aloe vera, lemon Peel, green Tea, cayenne). The juice bar's refreshing juice bowls are made with a frozen juice base and are topped with fruits, nuts, seeds, and more, with names like The Skyway (Tropical Base with pineapples, mangos, strawberries, coconut flake, and local honey) and the Rainbow (Tropical Base with pineapple, mango, kiwi, strawberry, raspberry, blueberry). Elixir shots pack a health-filled punch with options like The Purifier (cayenne, Aloe, Probiotic Cultures, cranberry, Lemon Essence) and Green Crack (spinach, kale, parsley, apple, matcha, liquid chlorophyll). They also serve breakfast until 11AM.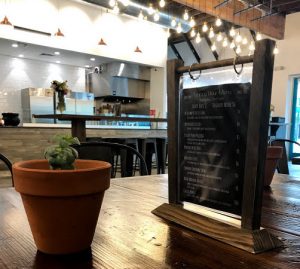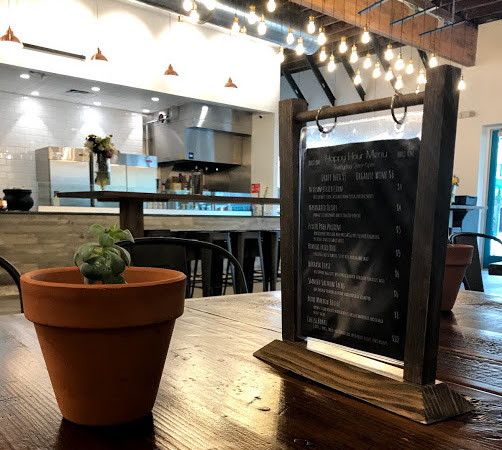 The kitchen component of the Brass Bowl Kitchen & Juicery brings delicious, 100% gluten-free dishes to its patrons. Its menu includes bowls like the Unrolled Sushi (rare-seared tuna, such rice, marinated cucumbers, avocado, ginger-soy, BB sweet chili sauce, wasabi micros) and The Citadel (seared free range chicken breast, hummus, heirloom tomato salad, marinated cucumbers, tzatziki sauce, house naan bread). It also spans flatbreads like the Lox Bagel (pictured below – house-smoked salmon, roasted garlic ricotta, heirloom tomato salad, fresh herbs, everything bagel spice) and The Forager (24 hr. sous vide hanger steak, tomato demi, foraged mushrooms, artisan cheese blend, forest herbs). Pair a dish with a drink from the juice bar for the ultimate experience!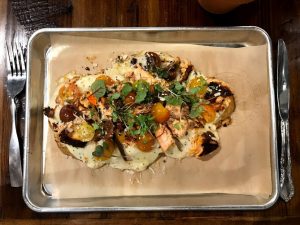 The Brass Bowl provides a guilt-free eating experience, striving to use only organic and sustainably-sourced ingredients in their dishes. Fruits and veggies are sourced locally and seafood is line-caught and sustainable. The restaurant's goal is to provide flavorful dishes without sacrificing healthy eating. The chef-driven menu is made to be a lifestyle menu, providing health-conscious choices to the eating habits of St. Pete's residents.
The Brass Bowl Kitchen & Juicery is open Sunday-Thursday from 9AM-9PM and Friday-Saturday 9AM-11PM. Happy Hour happens every day from 2PM-6PM with $5 local drafts and $6 organic wines, as well as deals on appetizers like a $10 Cheese Board and $5 Pulled Pork Poutine. For the full menu and more information, visit https://www.brassbowlkitchen.com/.