Hidden away on the Johns Hopkins All Children's Hospital campus, The Library would likely win the title of "Most Unusual Location" among St. Pete's restaurants.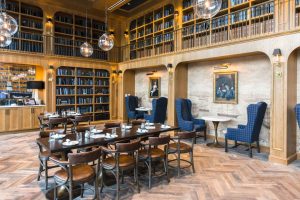 (Image from The Library's Facebook page.)
Originally christened "The Peabody," The Library emerged from the inspiring partnership between Johns Hopkins and George Peabody. The two friends devoted themselves to building communities and fostering knowledge. The George Peabody Library, specifically, inspired the birth of this restaurant and its eclectic decor. Visitors can now dine among a sea of beautiful blue books in this tucked away treasure of a restaurant.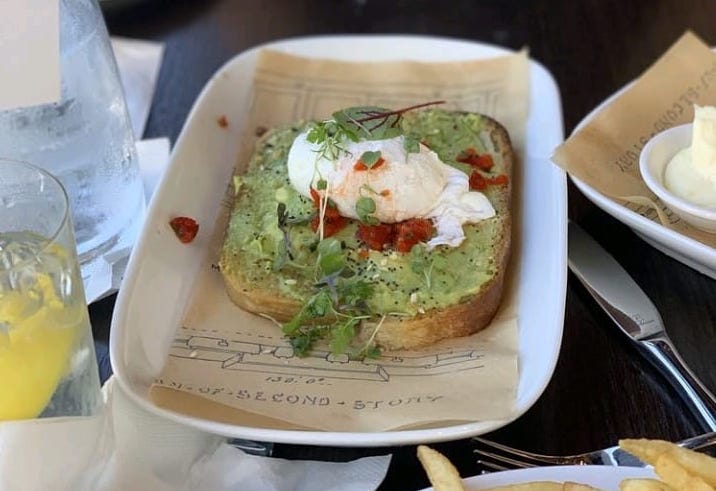 Under the Oxford Commons company (the same company behind the delicious and beautiful Oxford Exchange), The Library brings delicious American eats to the table. Executive Chef Rachel Bennett's expansive menus cover every possible meal, from brunch to post-dinner dessert. For brunch (9AM-4PM Saturday and 9AM-5PM Sunday), diners can enjoy dishes like lemon poppy French toast, cheese & charcuterie, or black bean burgers. Lunch (11AM-4PM Monday-Friday) includes açaí bowls, tomato prosciutto flatbread, and blackened fish tacos. Dinner (5PM-9PM Monday-Saturday) means mushroom pasta, filet mignon, and baked truffle mac and cheese. The restaurant also includes a coffee bar (8AM-5PM Monday-Friday) with fresh-baked pastries, coffee, and tea. And don't miss Happy Hour (4PM-6PM Monday-Friday)!
(Image from The Library's Facebook page.)
For reservations, catering options, and other information, visit www.thelibrarystpete.com.