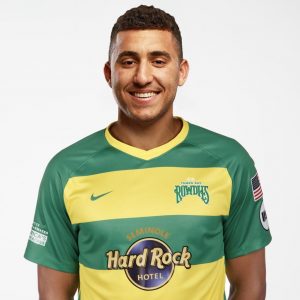 Last week, the Tampa Bay Rowdies signed 25-year-old defender Tarek Morad. Morad gives the team a potent blend of youth, experience and identity that is hard to find.
Already in his fifth season in the United Soccer League (USL), Morad has approximately 8,000 minutes of USL play and 100 appearances under his belt. He debuted with OKC Energy FC in 2014 and played for Louisville City FC for the last three seasons.
Growing up as an Egyptian-American in a suburb of Los Angeles, Morad was drawn to soccer by his father's love of the game. Morad inherited the Egyptian passion for the game, excelling throughout high school and at the Division I University of California-Irvine program.
Following college, Morad has enjoyed a decorated USL career, tallying 32 appearances for Louisville City FC last season. Morad's stellar play last season led his club to an Eastern Conference-best record, an Eastern Conference championship and to the coveted USL championship.
"We're always happy to improve our squad and when a player of Tarek's ability is available, it's a great addition," Rowdies head coach Neill Collins said. "He's a player that has played a lot of games in this league at a really high level and we're excited to have him in our team."
Morad wears number 24, and has already played two games for the Rowdies. The Rowdies' next home game is Aug. 25 at 7:30 p.m. against FC Cincinnati at Al Lang Stadium in downtown St. Petersburg.