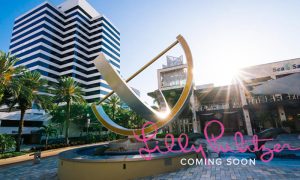 In the heart of St. Petersburg's downtown, Sundial boasts a variety of attractions – including a movie theater complex, high-end restaurants and numerous retail shops. With brands like the Florida Jean Company, White House Black Market and Tommy Bahama, there's a wide variety of options for residents' shopping necessities at at 153 2nd Ave N.
Another name will be (briefly) added to the mix soon, though the exact time has not yet been shared. The Sundial reports that a Lilly Pulitzer pop-up shop will open the fourth quarter of the year – a time fast approaching with the close of the summer.
The seasonal shop will open in the 1,678-square-foot space vacated by the Tampa Bay Rowdies store, which is being relocated to another Sundial location. This six-month pop-up will carry Pulitzer's signature resort clothing line, showcasing her bright, artistic patterns to St. Petersburg's equally bright and artistic community. And just in time for the holidays.
St. Petersburg is resplendent in boutiques and shops, and Pulitzer's inclusion in the mix, while temporary, brings even more to the table. With shops like this, the already varied and shifting landscape of St. Petersburg's businesses and attractions becomes even more so.