For all the great culinary options St. Pete has to offer, I have always felt the city could benefit from having more "special occasion" restaurants.
While we have a plethora of restaurants serving pizza, burgers, and ice cream, sometimes I'm in the mood to be spoiled by a restaurant that goes above and beyond with stunning décor, impeccable service, and incredible food and drinks.
There are several restaurants in downtown St. Pete that already offer an exceptional product, but as the saying goes, variety is the spice of life. And as our city grows, so should our elevated dining options.
Enter Fortu, a pan-Asian steakhouse set to open this September on the ground floor of the Ponce de Leon Hotel at 95 Central Avenue in downtown St. Pete. The space was home to Ceviche for nearly 25 years before their move to Beach Drive last year.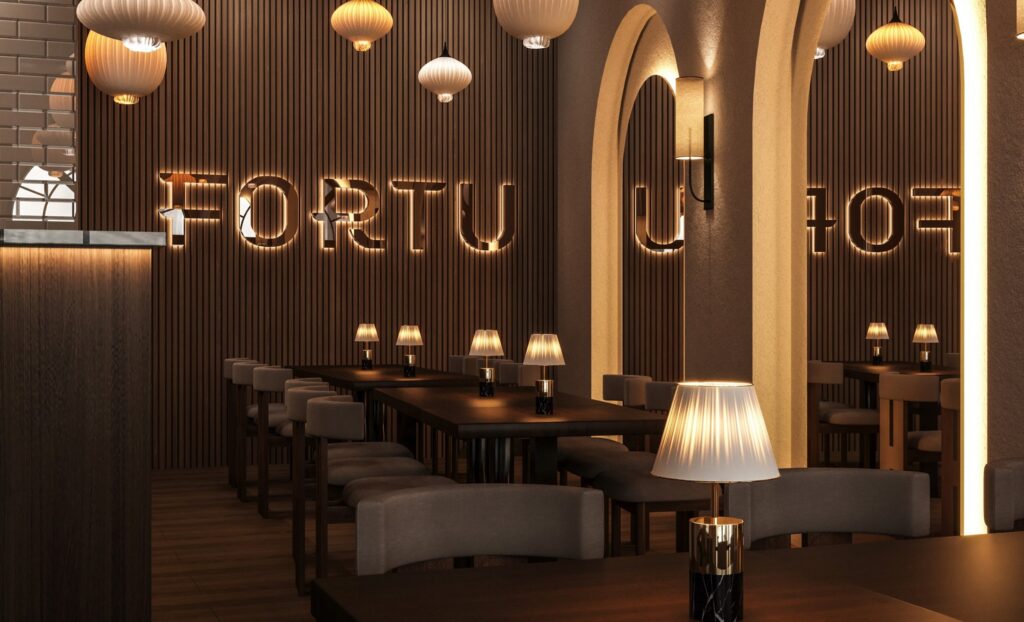 Fortu is the latest concept from Benson Hospitality Group, helmed by Shan Bakrac, who also owns and operates Top Slice Pizzeria and Black Cattle Burger Co in downtown St. Pete. Bakrac has brought on Corey Rose, Cory Saffran, and Nathan Howey as Managing Partners to assist with operations and menu development.
As Fortu prepares for its big debut, the pan-Asian steakhouse has just started hiring for various positions, including server, host, server assistant, food runner, dishwasher, prep cook, and line cook. Those interested in applying should email their resume to careers@forturestaurants.com.
The restaurant has seen slight design modifications since it was announced nearly a year ago.
Working with numerous designers from multiple continents, Shan has channeled inspiration from his traveling around the world to drive the interior design.
"We are going back to a more timeless approach," said Corey Rose, Culinary Operations at Benson Hospitality Group, in a conversation with St. Pete Rising. "Fortu will now feature lighter Earth tones, such as beige and brown, with dark wood accents. I think it looks a lot better than the red and black we had originally envisioned."
Covering the ceiling will be lantern-style pendant lighting and adorning the back wall will be Fortu's logo, the letter "F" illuminated and stylized to resemble a Torii, a Japanese gate that represents a sacred place.
Fortu will offer pan-Asian dishes using locally sourced ingredients, ranging from small bites to filling entrees, all infused with elements from various countries throughout Asia.
"Weeks of research and development with over a dozen formal tastings allowed us to dial in, not only the flavors, but the presentation as well," said Nathan Howey, Menu Development at Benson Hospitality Group. "Our team consulted with a very accomplished chef and mixologist to deliver an unmatched bar program that will set ourselves apart from all other restaurants in the area."
Fortu will have a robust selection of seafood including Lobster Dynamite, Miso Seabass, and a raw bar featuring a chilled seafood tower of daily selections of oysters, tuna, spicy salmon, poached shrimp, wagyu tartare, lobster tail, and chef-selected accompaniments.
The "land" menu will feature dishes such as Korean Fried Chicken, Hot & Sour Beef, and Roasted Pork Collar.
A special wagyu menu will be highlighted by a 20oz cowboy-cut, whiskey-washed, and dry-aged ribeye. Other wagyu cuts, such as striploin, coulotte, tenderloin, and skirt steak will also be served.
The bar at Fortu will focus on high-end Japanese whiskeys, craft cocktails, sake, and wine.
The cocktail menu includes Asian-inspired concoctions such as a Japanese Highball and Milk Punch, which consists of Bombay Sapphire Gin, ume, strawberry, lychee, lemon, and whey.
Finish off the meal with one (or two!) of Fortu's many desserts. Japanese-style cheesecake with Suntory caramel, Vietnamese Coffee Cake with sweet cream and espresso, and Spiced Green Tea Custard with blueberry boba and brûléed sugar will be offered.
Fortu will seat nearly 200 patrons between indoor and outdoor seating. However, not included in the pan-Asian restaurant's footprint will be the building's basement, which Ceviche utilized as a flamenco bar. That space will remain El Cante, a Latin-themed speakeasy.
"Over the last year, our team has worked tirelessly to create a truly unique dining experience for St. Petersburg," said Bakrac. "We are incredibly proud of Fortu and cannot wait to welcome everyone into our restaurant in the coming weeks."
Fortu is expected to open in September at 95 Central Avenue in downtown St. Pete. Be sure to follow them on Instagram to stay up to date on the latest happenings.