The world needs coffee – and more coffee shops like Brew D Licious.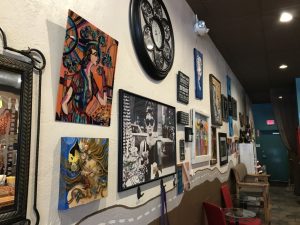 Located on the bustling 600 block of Central Avenue, the little shop lays claim to a garage-style venue. Visitors walk inside through a wide-open garage door (weather permitting) and are enchanted by the scent of fresh coffee as soon as they cross the threshold. The walls are lined with only the finest art (and passive-aggressive vintage decor that perfectly encapsulates the pre-coffee mood) to admire while the baristas make your delicious brew. And don't forget to check out the tantalizing treats, from pastries to quiche, to pair with your coffee. The espresso bar sells No Name Java coffee directly from the roaster. If you fall in love with the beans, you can even buy them to take home!
(Image from Brew D Licious Facebook page)
Find Brew D Licious at 667 Central Avenue from 7AM to 4PM on weekdays, 9AM to 4PM on Saturdays, and 9AM to 1PM on Sundays. Check them out here.