Aaand it's finally the weekend! Downtown St. Pete, of course, has no lack of fun things to do, and we've got you covered with the highlights! Kick things off on Thursday with the new Royal Palm Market right outside Intermezzo in the EDGE District and no shortage of museum events. Friday really pushes things into gear with First Friday, a Night Blow at the Morean Arts Center, and more! Saturday keeps it going with the St. Pete Indie Market, Brocante Market, and the iconic Saturday Morning Market. Sunday wraps things up neatly with a 5K/10K Getaway run along the waterfront and Trivia Night at the Hollander Hotel. There's always so much to do in St. Pete, and this weekend is no different. Enjoy!
THURSDAY NOVEMBER 1
Fine Art after 5pm: reduced admission to The Dali Museum, MFA & Imagine Museum
Fine art can be pricey. Thursdays after 5pm, visit the Dali for just $10, the Imagine Museum for $5, and the MFA for $5. Have a glass of wine and stroll the museums for the perfect Happy Hour.
More Dali Museum information can be found here.
Museum of Fine Arts information can be found here.
Imagine Museum information can be found here.
Storytellers Exhibition at the Chihuly Collection
This narrative driven glass exhibition is on display at the Chihuly Collection from June 8 – Oct 31. Tickets are included with general admission and can be purchased
online
or in person.
Royal Palm Market
Enjoy live music, food, shopping and craft cocktails every Thursday at 6 p.m. under the royal palms of St. Pete! This weekly night market is located right next to Intermezzo Coffee & Cocktails and features local artists, local boutiques, handmade goods, leather goods, wood burning, clothing & accessories, specialty dog treat vendors, soaps, candles and so much more! Bring the whole family including your pets to this free, weekly event.
James Museum of Western & Wildlife Art Presents "Art and the Animal"
A special exhibition featuring premier wildlife art from artists around the world! Organized in collaboration with The Society of Animal Artists, "Art and the Animal" will feature over 100 paintings and sculptures, with select art available for purchase. This exhibition is on display at the James Museum of Western & Wildlife Art in downtown St. Pete from July 28 – October 23, 2018.
Amazing Scavenger Hunt Adventure
What better way is there to explore St. Pete than a city-wide scavenger hunt? Turn your smart phone into a game device and make your way through a three-hour city tour. Start at 335 2nd Ave. NE (when you're ready), and play at your own pace! The event runs from 9AM-8PM. Tickets are purchased per team and are $44. Find them here.
This Is Not a Selfie Exhibition at MFA St. Pete
In the current "Age of the Selfie," this exhibition offers a compelling look at the primacy and variety of expressions within self-portraiture through the eyes of an artist. This exhibition features artists who expand the domains of self-portraiture by blurring the distinction between reality and fantasy, artifice and authenticity, and public and private imagery. This Is Not a Selfie provides an opportunity to view the remarkably innovative and diverse methods photographers use, offering new meanings into our own understanding of the self.
FRIDAY NOVEMBER 2
First Friday St. Pete
Celebrate every First Friday of the month in St. Pete with a free block party complete with live music and dancing! The action goes down between 2nd and 3rd streets on Central Ave. from 5:30-10 p.m.
HYbar Happy Hour
Hit the bar at St. Pete's newest hotel – The Hyatt Place St. Pete. Celebrate your long week with a cold craft cocktail or local craft brew while listening to local live music! This high brow happy hour happens every Friday night, with beautiful views and great deals.  Happy Hour runs from 4:30pm-7:30pm.
Art Fridays at the Vinoy
Visit the Vinoy Renaissance this Friday night from 5:30PM-7:30PM for a free art show! Meet the artist and view their works while supporting the local art community.
Clyde Butcher: Visions of Dali's Spain
To create this special exhibition, The Dali invited Clyde Butcher, the renowned nature photographer often called "Florida's Ansel Adams," to explore and visually document Salvador Dali's homeland. Clyde Butcher: Vision's of Dali's Spain provides a technically brilliant, epically scaled view of Dali's beloved environs,  to creates a euphoric experience of immersion.
Night Blow
Head to the Morean Glass Studio & Hot Shop for a night of glow-in-the-dark fun! Watch live glass-blowing demonstrations featuring artists David Spurgeon, Jeremiah Jacobs, Tim Soluna, Edelweis Walker, Bao Thao and Matt Piepenbrok. Jam to rockin' beats by DJ Rich Ranck and enjoy food, beverage & glow-in-the-dark accessories along with some exciting glass-blowing in the dark from 7-10 p.m. Reserve your spot here!
Open Bar at Yard of Ale
End your week on a good note with Yard of Ale from 8PM to 10PM! For just $10, you get access to an open bar with their signature CCB 1821 Golden Ale as well as wells and 360 vodka.
Mermosa After Dark: Silent Disco
Did you miss Mermosa's first Silent Disco? Not to worry – take two happens this Friday! From 8PM to 12AM, dance the night away while DJs JonnY and Des give you the music through its headphones. The shop will be a "Mermazing" underwater experience. While you're there, enjoy their local bubbles, hand-selected wines, and local beers. Tickets are $10 and include headphones for the disco as well as access to drink specials and can be purchased here. Make sure to bring your ID and a valid credit/debit card (a $75 fee is charged for headphones that are not returned).
SATURDAY NOVEMBER 3
Saturday Morning Market
Check out this week's rendition of St. Pete's favorite way to say good morning. It's full of all of the goods – and eats – to make your Saturday morning sweet. Stop by at 101 1st Street SE between 9am and 1pm.
Poolside Yoga and Brunch
If there weren't enough yoga options for you already, here's another: poolside yoga at the Hollander Hotel at 8:30 followed by brunch. Salute the sun with Allison Moonbeam Archer then cool off in the Hollander Hotel Downtown St Petersburg's beautiful pool. All levels are welcome for this slow flow class and mats will be provided as needed. $5 Body Electric monthly and annual members; $10 pre-registered; $15 at the door.
St. Pete Indie Market
St. Pete Indie Market is a monthly market, featuring 100+ vendors. The market showcases local artists, indie designers, vintage collectors, food trucks, jewelry makers, horticulturists, eclectic crafters and other local businesses and organizations. The market spills out of Green Bench Brewing Co. with specialty cocktails being served up at Intermezzo Coffee & Cocktails. Get a taste of St. Pete's local vibe and eat, shop and drink the first Saturday of each month from 11am – 3pm.
Rock & Roll Exhibition at The Florida Holocaust Museum
Explore the extraordinary life of renowned music promoter Bill Graham (1931 – 1991) who helped launch and promote the careers of countless rock & roll artists. This exhibition also traces the indomitable spirit of a man who was brought to the United States as an eleven-year-old Jewish refugee fleeing the Nazis, fueling lifelong passion and advocacy for social justice.
St. Pete Walking Mural Tour
Hear the inside stories of the making of more than 30 murals found in the Central Arts District in downtown St. Petersburg. The four-block tour begins at Florida CraftArt, 501 Central Ave., each Saturday morning at 10 a.m. and concludes at 11:30 a.m. Call 727-821-7391 or email gallery@FloridaCraftsmen.net to book a tour, which costs $19 for adults and $11 for children. A portion of the proceeds from the tours will be used to fund future murals.
Brocante Market
Explore 15,000 sq feet of vintage treasure finds at this monthly market in St. Pete! This true vendor-run market has an amazing variety and selection of vintage items unlike anywhere else. Grab your next vintage find the first weekend of each month from 9 a.m.-7 p.m. on Saturday and 9 a.m.-5 p.m. on Sunday at 2200 2nd Ave S in St. Pete.
Disney in Concert
Be our guest for a magical journey into storytelling and music with the timeless tales of Disney. Brought to life by four Broadway-caliber singers and enhanced with high-resolution film sequences, Disney in Concert – Tale as Old as Time explores iconic moments, plot twists and heroics from Frozen, Beauty and the Beast, Cinderella, The Little Mermaid, Tangled, The Lion King and many more. Join The Florida Orchestra at the Mahaffey Theater in St. Pete on Saturday, Nov. 3 for one of their performances at either 2 p.m. or 8 p.m. Purchase tickets here.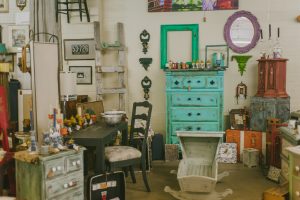 SUNDAY NOVEMBER 4
Getaway 5K, 10K, Kids Fun Run, and Celebration
Visit Albert Whitted Park this Sunday morning at 8AM for a run along the St. Pete waterfront. Bring the whole family – there's something for everybody – and run, walk, dance, whatever you want to do down the course. The run closes with a beach-themed party with local vendors, music, food, drinks, and a play area for the kids. There's a prize for everyone! Those who complete the 5 or 10K get finishers medals. 5K and Kids Fun Run participants get event t-shirts, and 10K finishers get a pullover jacket with thumbholes and an embroidered logo. Register here!
Yoga at The Dali
Bring along your yoga mat and come ready to be inspired! Join Lucky Cat Yoga at 10:30 a.m. every Sunday at The Dali Museum for yoga. Classes are held in the Raymond James Community Room or outside in the Avant-garden, both with incredible views of the waterfront. The cost to participate is $10 for members and $15 for non-members. Tickets can be purchased at the Member's desk.
Mimosas & Masterpieces at the Dali Museum
Let's get (sur)real. What could be better than a Spanish brunch, complete with mimosas AND the wild works of Salvador Dali? No comparison. Grab a companion for your journey into weird and wonderful from 11 to 4pm in the museum's Gala Cafe.
St. Pete Sunday Market
LocalShops1 will be hosting a Sunday Market at Caddy's on Central! This runs weekly from 12PM to 4PM each Sunday through April. Sip mimosas, enter raffles, and enjoy live music as you shop a variety of local vendors!
Brocante Market
Explore 15,000 sq feet of vintage treasure finds at this monthly market in St. Pete! This true vendor-run market has an amazing variety and selection of vintage items unlike anywhere else. Grab your next vintage find the first weekend of each month from 9 a.m.-7 p.m. on Saturday and 9 a.m.-5 p.m. on Sunday at 2200 2nd Ave S in St. Pete.
Six Dollar Sundays at the St. Petersburg Museum of History
Visit the St. Petersburg Museum of History for just $6! This deal has returned and continues through the end of the year. Be sure to take advantage of this and learn about the history of our beautiful city.
Trivia Night at the Hollander Hotel
Join the Hollander Hotel in the Tap Room every Sunday through December 23rd for trivia night! The top three winning teams earn $50, $35, and $15 in Tap House Bucks.
The event takes place from 6PM to 10PM.