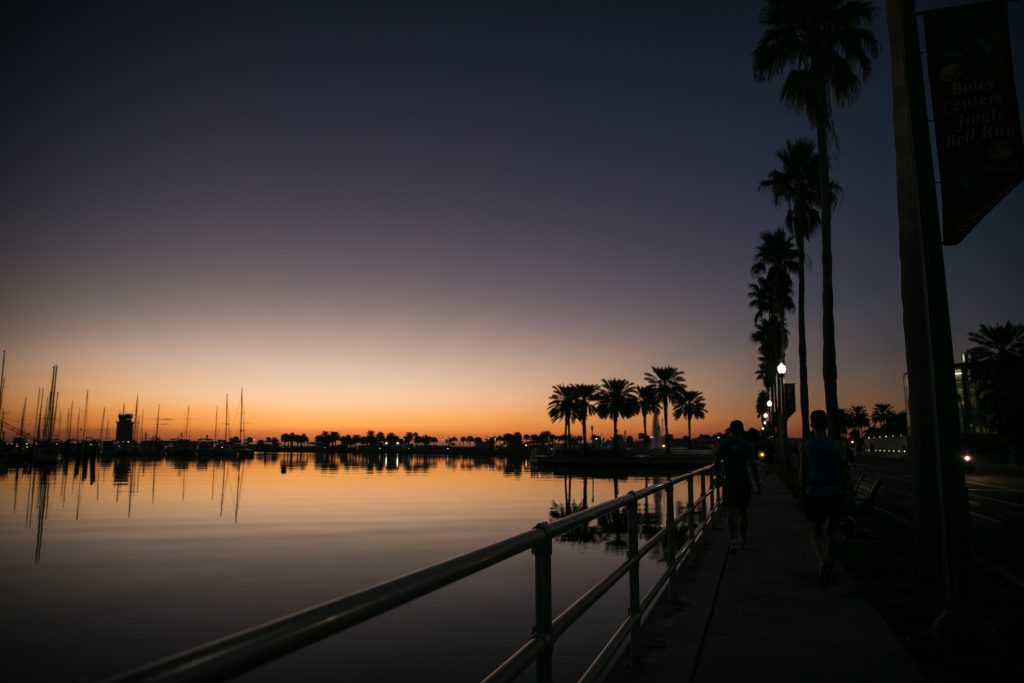 Up to bat: weather in the 50's (YES!)
On deck: the Winter Solstice (December 21st)
In the hole: Hanukkah, Christmas, and New Years! (complete with holi-daze)
We're continuing our delightful stroll through December with another fun-filled weekend in sunny St. Pete. There's never a shortage of things to do in our beautiful city, but this weekend we're serving up everything from ugly sweater food truck crawls to lighted bike parades, to free operatic performances. Don't miss out, plan your weekend here.
THIS WEEKEND…
Snow is falling every night at Sundial
The perfect way to get in the holiday spirit – bring your friends and family to Sundial for nightly snow between 6pm–9pm from now through December 24th. Watch our Christmas courtyard come to life as flurries take place every half hour, with plenty of opportunities to catch the holiday spectacle. Visitors can also sit in Santa's lap and take photos every Saturday and Sunday.
THURSDAY DEC. 14TH
Shop, Sip & Stroll – Food & Wine Tasting at Sundial
Sundial's SHOP, SIP and STROLL event will feature complimentary wine, delicious snacks, great deals and a chance to win one of 50 gift certificates with RSVP here (21+ only)! Experience the charm of the holiday season at Sundial during this unique Downtown St. Petersburg wine walk, with retailers and dining establishments inviting you to take a tour through Sundial's very own Christmas village. 5:30-8:30pm.
Fine Art after 5pm: reduced admission to The Dali Museum & MFA
Fine art can be pricey. Thursdays after 5pm, visit the Dali for just $10, and the MFA for $5. Have a glass of wine and stroll the museums for the perfect Happy Hour.
More Dali Museum information can be found here.
Museum of Fine Arts information can be found here.
Poetry at the Dali Museum
Poetry at The Dalí is an ongoing series hosted by St. Petersburg Poet Laureate, Helen Wallace. Occurring on the second Thursday of each month through May 2018, each evening will feature Wallace joined by selected poets to present poems addressing the theme of "Cages and Liberation." Following the presentation, there will be an audience Q&A.
FRIDAY DEC. 15TH
Ugly Sweater Food Truck Crawl + Elf Movie
Get in the Holiday spirit – and get that Holiday spirit in your belly! It's time for the Gulf to Bay Food Truck Association's Ugly Sweater Food Truck Crawl. Don those ugly sweaters, expect a visit from Santa, and get to Albert Whitted Park for a showing of Elf. Movie starts at 7:30pm.
For more details, visit their Facebook page.
Bike for Brews St. Pete: 5th Annual Lighted Holiday Bike Ride
Light up your bikes and join Bike for Brews for a leisurely, lighted, holiday bike ride through Old NE! This ride will be approximately 3-4 miles. Meet at Flora Wylie Park parking lot- on Beach Dr NE, just north of the tennis and volley ball courts. The ride will finish at The Ale and the Witch. Attire should be festive and be merry! Please be sure to sign the one-time online waiver. *For safety reasons as this ride is at night, we must ask that all bikes on this ride be properly outfitted with lights* Ride begins at 7pm, Beach Drive N of Tennis & Volleyball courts.
SATURDAY DEC. 16TH
Pour TapHouse Downtown Opening!
Pour Taproom opens THIS SATURDAY at 225 2nd Avenue North in Downtown St Pete! Featuring over 70 self-serve taps, you pay by the ounce, not by the glass. Just pour a few ounces, then try something else. Choose what you like the best.
4th Annual St. Petersburg Holiday of the Arts
The 4th Annual St. Petersburg Holiday of the Arts transforms South Straub Park into an outdoor gallery of original and handmade art created by extraordinary works brought to St. Petersburg by artisans from across Florida and throughout America.  This gallery is created from exquisite works in painting, sculpture, jewelry, glass, ceramics, fiber and wearable art, photography, digital art, mixed-media, metalwork, woodworking and more. South Straub Park, 10-5pm.
Free Performance by St. Petersburg Opera Company at Sundial
Here's your chance to hear the renowned St. Petersburg Opera Company LIVE on the Sundial courtyard singing your holiday favorites for FREE! St Pete Opera's Holiday Octet will raise their voices in celebration of the Holidays. Join us for a fun time at Sundial. What a beautiful way to spend a Saturday afternoon in Downtown St. Petersburg! 2-3pm.
Saturday Morning Market at Al Lang
St. Pete's favorite way to say good morning is back on Beach Drive! After spending the summer in Williams Park, the Market is back with all of the goods – and eats – to make your Saturday morning sweet. Stop by Al Lang Stadium Parking lot from 9am to 2pm. For more information, visit their website: http://saturdaymorningmarket.com/
Dali and Beyond Film Series: Moulin Rouge
The Dalí & Beyond Film Series features an eclectic selection of films – both familiar and fantastic – with monthly themes ranging from horror, experimental and psychological to kid-friendly and world cinema. In conjunction with our special exhibition, Dalí and Schiaparelli, Saturdays in December feature films for which Schiaparelli designed costumes. This month, Moulin Rouge (1952). Schiaparelli designed Zsa Zsa Gabor's costumes, some of which are inspired by Lautrec poster designs. Moulin Rouge was the last film for which Schiaparelli designed costumes. The Dali Museum 1-3pm
Christmas Outdoor Movie & Craft Market ft. Home Alone at Williams Park
Getting in the Christmas spirit has never been more fun, with special outdoor movies celebrating classic Christmas films. This week: Home Alone. Before the movie starts, enjoy a craft market, Christmas themed music & trivia, food trucks, and much more. The market runs from 4pm-6pm and the movie from 6pm – 7:40pm. Bring the kids, bring your pups, they'll provide the Christmas Spirit!

Beers on the Pier at the St. Pete Museum of History
Join the Museum of History for unlimited sampling of craft beer from 24 breweries — over 70 beers to sample! Tickets are $35 in advance / $45 at the door. buy tickets here: 
http://spmoh.com/product/beers-on-the-pier/
SUNDAY DEC. 17TH
Locale Market's 3rd Anniversary
3 years in St. Pete and three years of pushing the envelope with incredible food and retail! Locale Market is celebrating their 3rd Anniversary with a sale! Join them for a day of amazing deals! Sales include a special on the St. Petersburger – with friends and a soft drink for $9.99 and 10% off all groceries and merchandise. 11am-9pm.
Hammock City – St. Pete
Come join us along the bay for some rest and relaxation. Park at the softball fields and head over to the edge of the bay where you can setup a hammock, bring some, food, and relax outside! We can also play a little ultimate frisbee and soccer. Children, dogs, food, and beverages are welcome. Let's make this a big fun St Pete Picnic! Cheers! Look for the Running for Brews FLAG! Not required to bring a hammock – chairs are perfectly fine. Vinoy Park, 1-4pm.
Yoga at the Dali
From 10:30-11:45am every Sunday. Join Lucky Cat Yoga every Sunday at The Dali – a remarkable environment where Dali's energy infuses the physical, mental and spiritual inspiration of yoga. Classes are held in the Raymond James Community Room or Avant-Garden, both with incredible views of the waterfront.
The Lucky Cats teach vinyasa yoga, an all-levels approach that incorporates an interplay of basic breath work, postures, meditation and relaxation. Each student is encouraged to awaken and sustain their practice at their own pace. Please arrive early on a light stomach. Don't have a mat? We have several on hand to lend.
Cost: $10 members and students, $15 non-members.
Masterpieces & Mimosas at the Dali Museum
Let's get (Sur)real. What could be better than a Spanish brunch, complete with mimosas AND the wild works of Salvador Dali? No comparison. Grab a companion for your journey into weird and wonderful from 11 to 4pm in the museum's Gala Cafe.