Once again, it's time for the weekend! In addition to countless fantastic restaurants, shopping, bars, and more, this weekend has its fair share of events downtown. Thursday brings us reduced museum admission after 5PM and the weekly Royal Palm Market. Friday means Friday Night Clay at the Morean Arts Center and free shuffleboard in the evening as well as Yoga for Lunch at Station House. Saturday means the iconic Saturday Morning Market and two awesome art displays (the Guerilla Art Market and the PAVA Art Show)! Sunday wraps the weekend up with the second day of PAVA's show, the Inspired Wedding Event, and a Deep Splash House Pool Party. And don't forget to take advantage of $5 admission to the Imagine Museum all month long. Enjoy your weekend!
THURSDAY 7/11
Fine Art after 5PM: reduced admission to The Dali Museum, MFA & Imagine Museum
Fine art can be pricey. Thursdays after 5PM, visit the Dali for just $10, the Imagine Museum for $5, and the MFA for $10. Have a glass of wine and stroll the museums for the perfect Happy Hour.
More Dali Museum information can be found here.
Museum of Fine Arts information can be found here.
Imagine Museum information can be found here.
Royal Palm Market
Enjoy live music, food, shopping and craft cocktails every Thursday at 6PM under the royal palms of St. Pete! This weekly night market is located right next to Intermezzo Coffee & Cocktails and features local artists, boutiques, handmade goods, leather goods, wood burning, clothing & accessories, specialty dog treat vendors, soaps, candles and so much more! Bring the whole family including your pets to this free, weekly event.
Dean Johansen & the 24 Hour Men's Speakeasy
Catch Dean Johansen, a modern-day troubadour with plenty of old stories to tell, at the Palladium this Thursday from 6:30PM-12:30PM. Backed by the 24 Hour Men, a swinging rhythm section, Johansen recreates history in a speakeasy setting. Reserved tickets are $24. General admission is $12 in advance and $15 day-of. Purchase them here.
Book Club at the MFA: I Am a Cat, Sōseki Natsume
Included in reduced after 5PM admission is the MFA's book club! Keep St. Pete Lit discusses one of Japanese literature's most prominent works, I Am a Cat by Sōseki Natsume. Join in from 6:30PM-7:30PM.
FRIDAY 7/12
Yoga for Lunch at Station House
Unwind and renew with a mid-day Yoga break! A soulful exploration of the body and mind will leave you feeling rejuvenated and ready to embrace the rest of your day, and the weekend ahead.  In the heart of downtown St. Pete, join us for a 45 minutes flow that will get your blood pumping, body moving and soul squealing for joy! Starts at 12pm.
Friday Night Clay at Morean Center for Clay
Spend your Friday evening playing in clay at the Morean Center for Clay! Be prepared to get dirty for two hours from 7-9PM. of wheel throwing and hand building. Bring a towel, your favorite beverage, and a group of friends or a date for a fun get-together. You'll get to select your favorite piece at the end of the night and they will bisque and glaze it for you to bring home. Purchase your tickets for $25 online today.
Friday Nights at the St. Pete Shuffleboard Club
It's not just for the older generation anymore! Join the fun at the world's largest shuffleboard club to see why this pastime has regained its popularity in the Sunshine City. Free every Friday night from 7PM-11PM, locals and visitors alike flock to this private recreational club. If you're not sure how to play, have no fear as volunteers are on hand to give you a lesson or two. Bring your own snacks and beverages – local craft beers tend to be a popular choice. There's often live music or a DJ on-site to keep you shufflin'. Children are welcome and so are well behaved dogs.
Jeremy Olander in the Basement
SubCentral brings the music with featured artist Jeremy Olander, DJ Brian Busto, Glen S. and Luke Bird, and Lukayne! The music kicks off at 9PM and runs until 3AM. Tickets are $20 and can be purchased here. Hear the artists' sounds here.
Mountain Holler at the Ale and the Witch
Mark Etherington, aka "Mountain Holler," performs live in the Ale and the Witch courtyard this Friday night. His alt-folk style "mixes open tuned acoustic/electric guitars with cavernous vocals saturated in reverb and delay reminiscent of Jim James (My Morning Jacket) and Robin Pecknold (Fleet Foxes)." His performance runs from 8PM-11PM and is family and dog friendly.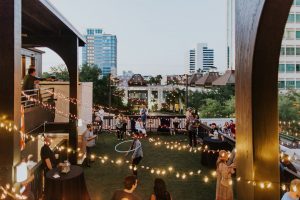 SATURDAY 7/13
Saturday Morning Market
Check out this week's rendition of St. Pete's favorite way to say good morning. It's full of all of the goods – and eats – to make your Saturday morning sweet. Stop by Williams Park between 9AM and 1PM.
St. Pete Walking Mural Tour
Hear the inside stories of the making of more than 30 murals found in the Central Arts District in downtown St. Petersburg. The four-block tour begins at Florida CraftArt, 501 Central Ave., each Saturday morning at 10AM and concludes at 11:30AM. Call 727-821-7391 or email gallery@FloridaCraftsmen.net to book a tour, which costs $19 for adults and $11 for children. A portion of the proceeds from the tours will be used to fund future murals.
Poolside Yoga and Brunch
If there weren't enough yoga options for you already, here's another: poolside yoga at the Hollander Hotel at 8:30 followed by brunch. Salute the sun with Allison Moonbeam Archer then cool off in the Hollander Hotel Downtown St Petersburg's beautiful pool. All levels are welcome for this slow flow class and mats will be provided as needed. $5 Body Electric monthly and annual members; $10 pre-registered; $15 at the door.
Pork and Pinot: Summer Wine Series
Sea Salt St. Pete hosts a morning of wine, fun, and food-pairing education! Tiffany Marani of Jackson Family Wine Estates teaches the basics of wine and meat pairings starting at 11:30AM. The wine menu includes Willakenzie, Pinot Noir, Willamette, Brewer Clifton, Pinot Noir, Santa Rita Hills, Copain, Pinot Noir, Tous Ensemble, Siduri, Pinot Noir, and Santa Barbara. Tickets are $25 (plus tax and gratuity). Participants can also stay for lunch and receive 20% off any full priced entree!
Drag Brunch
Head to the Iberian Rooster's SubCentral for a morning of food and entertainment! This weekly event has two showings at 11AM and 12:30PM. Drag queens Adriana Sparkle, Nicole T. Lane, and Juno Vibranz bring the fun while you bring your appetite. Tickets are $25 and can be purchased here.
Second Saturday Artwalk
Take in the St. Pete arts scene after hours as more than 40 galleries and studios spanning across five different arts districts stay open late, including local favorites like Duncan McClellan Glass and Morean Arts Center. Free trolleys run throughout the city's five districts to get you around during the 5-9PM event. For a complete list of participating galleries and a map, visit stpeteartsalliance.org.
This week features horse therapy! Front Runners Equine Therapy brings Zeus, their official Horse Ambassador, to Raw Studios from 5PM to 8PM. Front Runners is a local nonprofit devoted to bringing equine-assisted therapy to individuals with disabilities and other challenges. Check them out here!
PAVA Cool Art Show (Day One)
PAVA's 31st Annual Cool Art Show features the artwork of 75 top Florida artisans in all mediums July 13 and 14 at the St. Petersburg Coliseum. From 10AM to 5PM, head over to the St. Pete Coliseum for a local fine art and craft show. Featuring approximately 75 local artists, the show also includes food and beverage concessions to enjoy while admiring the beautiful works. Admission and parking free.
The Joel DaSilva Band at the Ale and the Witch
Find the Joel DaSilva band in the Ale and the Witch courtyard this Saturday night! Performance runs from 8PM-11PM.
Guerilla Art Market (Off Beach)
The Guerilla Art Market highlights some of the best local artists in St. Pete! Meet some of the people behind the art that makes St. Pete thrive. The market features individual art exhibits, a silent auction, live demos, music, a cash bar, and more. This market happens from 5PM to 10PM in the St. Pete Side Lot at 2133 2nd Ave. South.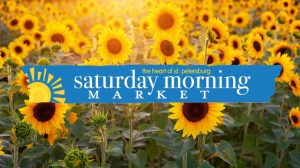 SUNDAY 7/14
Yoga at The Dali
Come with your yoga mat and get ready to be inspired! Join Lucky Cat Yoga at 10:30 AM every Sunday at The Dali Museum for yoga. Classes are held in the Raymond James Community Room or outside in the Avant-garden, both with incredible views of the waterfront. The cost to participate is $10 for members and $15 for non-members. Tickets can be purchased at the Member's desk.
Mimosas & Masterpieces: Brunch at the Dali
Raise a glass to an artistic take on Sunday Fundays at Café Gala with Mimosas & Masterpieces! Enjoy a Catalan-inspired brunch, visit the galleries, stroll the grounds, contemplate the Avant-garden, browse the Museum Store and soak in all the brilliance of the world-famous Dali Museum. Enjoy this inspired brunch between 11AM to 4PM. Visit the Facebook event page here.
PAVA Cool Art Show (Day Two)
PAVA's 31st Annual Cool Art Show features the artwork of 75 top Florida artisans in all mediums July 13 and 14 at the St. Petersburg Coliseum. From 10AM to 5PM, head over to the St. Pete Coliseum for a local fine art and craft show. Featuring approximately 75 local artists, the show also includes food and beverage concessions to enjoy while admiring the beautiful works. Admission and parking free.
Inspired Wedding Event
Sponsored by Nuovo Bride Magazine and Media Group, this three hour event includes a Wedding 101 Master Class (12:30pm), a Blind Wedding Cake Taste Test (2pm), and Craft Your Own Signature Cocktail (3:30) classes and workshops. Also enjoy complimentary champagne, fashion and beauty popups, and giveaways all afternoon. This event takes place at the St. Petersburg Yacht Club. Tickets are $5 before the event day or $10 the day of. Buy them here.
Deep Splash House Pool Party
It's that time of year again! Enjoy the beautiful Hollander Hotel pool in the Florida summer heat. The event kicks off at 1PM with live music, drinks, and more. Call 727.873.7900 for cabana reservations.
Bastille Day Celebration at Cassis
What better way is there to spend Bastille Day than delicious food and French music? Enjoy dinner at Cassis paired with live music for a soirée of chansons Françaises by award-winning singer, Lynne Locher! This event runs from 6:30PM-8:30PM. Reservations are recommended – please notify hostess of interest in Locher's performance. Make reservations here or by calling (727) 827-2927.
MUSEUMS
A Feast for the Eyes Exhibition at Museum of Fine Arts St. Pete
Dreamy landscapes and luscious still life paintings from one of the world's greatest private collections join together in A Feast for the Eyes: European Masterpieces from the Grasset Collection. This stunning exhibition will be on display at the Museum of Fine Arts, St. Pete from March 23rd through July 28th. The exhibition features 40 of the finest Old Master paintings by artists from the Netherlands, Italy, Spain, and Germany -including Jan Brueghel the Elder and Canaletto, one of the greatest view painters of all time represented here with an iconic view of Venice.The works span from 1600 to 1750. The collection is on loan from the Grasset family of Spain, whose patriarch assembled this group of masterpieces.
Straighten Up The World at the Museum of Fine Arts
This exhibition brings together works from the collection of the Museum of Fine Arts that display the prowess and innovation stemming from self-taught artistic practices from the American south. Purvis Young used cast-off materials to capture scenes and portraits of people he saw in his inner-city Overtown neighborhood of Miami, noting "I paint them all kinds of ways…some people protesting, some happy, some white, some are black, green or purple. People that think like me. Different kinds of people trying to straighten up the world." These artists face severe socio-political inequalities, including poverty and systemic racism, and yet created transformational artworks from materials that could easily be overlooked.  A number of their works call for change, as seen explicitly in Ned Cartledge's Freedom is Not Free (1995). Others portray family life and religious imagery, and many, as in the work of Lonnie Holley, embody the shrewd repurposing of materials and modes of improvisation. This exhibit runs through September 9th.
Before Dali: Goya – Visions and Inventions
Francisco Jose de Goya y Lucientes (1746-1828) is one of the most important Spanish artists of the late eighteenth and early nineteenth centuries, celebrated for his revolutionary paintings, drawings and engravings. Goya's life and works deeply influenced Salvador Dali in his early years, and are considered by many scholars to be the basis for "modern" art, bridging Classicism and Romanticism. Before Dali: Goya – Visions & Inventions, sponsored by Tampa International Airport,  features two alternating suites of first-edition prints, published in Goya's lifetime, alongside three significant paintings representing unique themes of Goya's works. The works are on loan from the Meadows Museum, Dallas, TX, home of one of the most substantial collections of Goya. This exhibit runs through November 3rd.
$5 Imagine Museum Admission
Calling all Pinellas County residents! The Imagine Museum has $5 admission all month long, just for you. Enjoy the beautiful glass sculptures for a great deal!