Happy Mother's Day to our favorite ladies! This weekend has plenty of ways to show your Mom just how much you care. Thursday brings us free swing dancing lessons and a movie under the stars in North Straub Park! Friday's highlights include a Ray's game against the Yankees, yoga at Station House St. Pete, and more. Saturday packs a punch with the Saturday Morning Market, the Catalina Cocktail Mixer, custom jewelry, and a a silent disco. Sunday is Mother's Day, with plenty of opportunities to treat your mother! Check it all out here. Have a wonderful weekend!
THURSDAY 5/9
Fine Art after 5pm: reduced admission to The Dali Museum, MFA & Imagine Museum
Fine art can be pricey. Thursdays after 5pm, visit the Dali for just $10, the Imagine Museum for $5, and the MFA for $10. Have a glass of wine and stroll the museums for the perfect Happy Hour!
More Dali Museum information can be found here.
Museum of Fine Arts information can be found here.
Imagine Museum information can be found here.
Royal Palm Market
Enjoy live music, food, shopping and craft cocktails every Thursday at 6PM under the royal palms of St. Pete! This weekly night market is located right next to Intermezzo Coffee & Cocktails and features local artists, boutiques, handmade goods, leather goods, wood burning, clothing & accessories, specialty dog treat vendors, soaps, candles and so much more! Bring the whole family (including pets) to this free, weekly event.
Look Back At It Thursdays with DJ Shannon C
Ladies, this one is for you – head on over to Yard of Ale St. Pete from 11PM-1AM for the best of the 90s and great drink and food deals ($2 Ladies Wells, $3 Ultra, $4 White Teas, $5 Stoli, LITs, $5 Chicken / Veggie Skewers)!
American Stage in the Park: Mamma Mia!
Grab a blanket and your friends for an evening of live theater under the stars! American Stage in the Park brings comedies & modern musicals to Demens Landing Park in St. Pete each spring. This year, watch the enchanting tale of love, laughter, family, and friendship as they present Mamma Mia! on select nights From April 10 – May 12. See here for tickets and more information. This is the last weekend for the show! Don't miss out!
Swing Dancing at the Sundial
Bring your dancing shoes to the Sundial at 7PM for a FREE swing dance lesson! The night includes live music from local band The Cat's Meow. Stay after the lesson to practice your moves or enjoy the Sundial.
Movies in the Park: Groundhog Day
Head to North Straub Park for a screening of Groundhog Day! Bring a blanket or low-lying chairs to enjoy a movie under the stars in DTSP.  The movie starts at dark, with music starting at 7PM. Refreshments will be available for purchase, and visitors are encouraged to bring their own food.
FRIDAY 5/10
Yoga for Lunch at Station House
Unwind and renew with a mid-day yoga break! A soulful exploration of the body and mind will leave you feeling rejuvenated and ready to embrace the rest of your day (and the weekend ahead).  In the heart of downtown St. Pete, join Station House for a 45 minute flow that will get your blood pumping, body moving and soul squealing for joy! The event starts at 12pm.
Friday Night Clay at Morean Center for Clay
Spend your Friday evening sculpting at the Morean Center for Clay! Be prepared to get dirty for two hours from 7-9PM. Enjoy wheel throwing and hand building. Bring a towel, your favorite beverage, and a group of friends or a date for a fun get-together. You'll get to select your favorite piece at the end of the night and they will bisque and glaze it for you to bring home. Purchase your tickets for $25 online.
Friday Nights at the St. Pete Shuffleboard Club
Join the fun at the world's largest shuffleboard club to see why this pastime has regained its popularity in the Sunshine City. Free every Friday night from 7-11PM, locals and visitors alike flock to this private recreational club. If you're not sure how to play, have no fear – volunteers are on hand to give you a lesson or two. BYO snacks and beverages – local craft beers tend to be a popular choice. There's often live music or a DJ on-site to keep you shufflin'. Children are welcome, as are well behaved dogs.
Tampa Bay Rays VS New York Yankees
At 7:10PM, the Rays go head-to-head against the Yankees! Make your way to the Tropicana Field to show your support. Tickets are available here.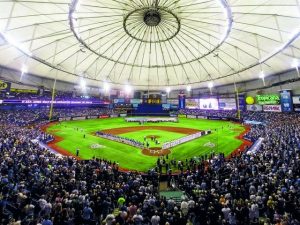 SATURDAY 5/11
Saturday Morning Market
Check out this week's rendition of St. Pete's favorite way to say good morning. It's full of all of the goods – and eats – to make your Saturday morning sweet. Stop by at 101 1st Street SE between 9AM and 1PM.
Poolside Yoga at the Hollander Hotel
If there weren't enough yoga options for you already, here's another: poolside yoga at the Hollander Hotel at 8:30AM. Salute the sun, then cool off in the hotel's beautiful pool. All levels are welcome for this slow flow class and mats will be provided as needed. $5 Body Electric monthly and annual members; $10 pre-registered; $15 at the door.
St. Pete Walking Mural Tour
Hear the inside stories of the making of more than 30 murals found in the Central Arts District in downtown St. Petersburg! The four-block tour begins at Florida CraftArt, 501 Central Avenue, each Saturday morning at 10AM (and concludes at 11:30AM). Call 727-821-7391 or email gallery@FloridaCraftsmen.net to book a tour. Tickets are $19 for adults and $11 for children. A portion of the proceeds from the tours will be used to fund future murals.
Custom Jewelry at the Sundial
Nikki Minnis of Paisley Loves Plaid will be making custom jewelry pieces just in time for Mother's Day! Head over to the Sundial Gift Shoppe between 12 and 4PM to take advantage of these unique, beautiful gifts.
Silent Disco at Pour Taproom St. Pete
Enjoy a night of music (your choice of 3 DJs spinning everything from reggae to 90s hip-hop) and fun at Pour Taproom St. Pete! Bring a group of friends and have fun dancing all night long. Be sure to take advantage of delicious craft beers and everything else the bar has to offer while you're there! Tickets are $10 and are available here.
Cocktails on the Courts
Not Your Grandpa's Gala! A Sunshine City Celebration benefiting the St. Petersburg Museum of History. Wear your finest shuffleboard chic and party to a night of unlimited libations and Florida cuisine with live music by the popular and locally celebrated Black Honkeys! Pre-sale tickets are available here for $75. Don't miss this unforgettable event in one of St. Petersburg's most historic venues. Be ready to party like it's 1926!
Catalina Cocktail Mixer
It's the ******* Catalina Cocktail Mixer at Albert Whitted Park! Dress your best in your favorite cocktail looks and enjoy an evening of drinks and fun. Sample from over 30 cocktails, spirits, beers, and wines; treat yourself to something yummy from a variety of food truck vendors; and dance and play games to your heart's content! Tickets are $15 for general admission, $39 for drink sampling, and $89 for VIP. The event runs from 2PM to 8PM, with drink samplings between 4 and 8.
SUNDAY 5/12
Yoga at The Dali
Come with your yoga mat and get ready to be inspired! Join Lucky Cat Yoga at 10:30AM every Sunday at The Dali Museum. Classes are held in the Raymond James Community Room or outside in the Avant-garden, both with incredible views of the waterfront. The cost to participate is $10 for members and $15 for non-members. Tickets can be purchased at the Member's Desk.
Mimosas & Masterpieces: Brunch at the Dali
Raise a glass to an artistic take on Sunday Fundays at Café Gala with Mimosas & Masterpieces! Enjoy a Catalan-inspired brunch, visit the galleries, stroll the grounds, contemplate the Avant-garden, browse the Museum Store and soak in all the brilliance of the world-famous Dali Museum. Enjoy this inspired brunch between 11 am – 4 pm. For more information, see the Facebook event here.
Tampa Bay Rays VS New York Yankees
At 1:10PM, the Rays go head-to-head against the Yankees! Make your way to the Tropicana Field to show your support. Tickets are available here.
Mother's Day at the Sundial
There's no shortage of things to do this Mother's Day at the Sundial! From 11AM to 2PM, enjoy live music from American Idol contestant Connor Zwetsch. Treat her to brunch at Sea Salt (from 11:30AM to 3PM – reservations here) or FarmTabe Cucina (from 10AM to 6PM – reservations here) – or even a steak dinner at Ruth's Chris (opening their doors early at 12PM just for the occasion – reservations here). Also, enjoy 40% off your entire purchase at Chico's as well as 50% off select merchandise at the Florida Jean Company!
MUSEUMS
Rock & Roll Exhibition at The Florida Holocaust Museum
Explore the extraordinary life of renowned music promoter Bill Graham (1931 – 1991) who helped launch and promote the careers of countless rock & roll artists. This exhibition also traces the indomitable spirit of a man who was brought to the United States as an eleven-year-old Jewish refugee fleeing the Nazis, fueling lifelong passion and advocacy for social justice (EXTENDED through June 30th!).
A Feast for the Eyes Exhibition at Museum of Fine Arts St. Pete
Dreamy landscapes and luscious still life paintings join together in A Feast for the Eyes: European Masterpieces from the Grasset Collection. This stunning exhibition will be on display at the Museum of Fine Arts, St. Pete from March 23 through July 28, 2019. The exhibition features 40 of the finest Old Master paintings by artists from the Netherlands, Italy, Spain, and Germany –including Jan Brueghel the Elder and Canaletto. The works span from 1600 to 1750. The collection is on loan from the Grasset family of Spain, whose patriarch assembled this group of masterpieces.
Magritte and Dali: A Surreal Exhibition
The Magritte & Dali Exhibition challenges reality with the works from the world's two most celebrated surrealists – Rene Magritte and Salvador Dali. In addition to viewing the 30+ works on display in the special exhibit, immersive installations allow you to be part of some of their most iconic pieces of art. The exhibitions runs through May 19, 2019 and tickets are available here.
Theo Wujcik: Cantos Exhibition at Museum of Fine Arts St. Pete
One of Tampa Bay's best-known artists, Theo Wujcik (1936-2014), spent a decade creating a series drawn from the dark and profound literary classic, Dante's Inferno. Now, those extraordinary paintings are the theme for Theo Wujcik: Cantos, a special exhibition organized by the Museum of Fine Arts, St. Petersburg. This exhibition celebrates the work of Theo Wujcik (1936–2014), with a focus on the literary references in his work.