It's that time again! We've got plenty for you to do – boredom is the least of your worries in DTSP. Thursday has the ever-awesome reduced museum admission, the Royal Palm Market, and a ladies' night at the Yard of Ale. Friday includes shuffleboard, yoga, clay workshopping, and, of course, it's First Friday! Saturday is full to the brim of fun things to do, from a Rowdies game to the Brocante Market. Sunday brings things to a close with events like Champagne Shuffle (to benefit the waterfront parks of the city) and Festivals of Speed (to benefit Friends of Strays animal shelter). And don't forget – the E. G. Barnhill exhibit leaves the MFA on Sunday! Have a great weekend, everyone!
THURSDAY 4/4
Fine Art after 5pm: reduced admission to The Dali Museum, MFA & Imagine Museum
Fine art can be pricey. Thursdays after 5pm, visit the Dali for just $10, the Imagine Museum for $5, and the MFA for $10. Have a glass of wine and stroll the museums for the perfect Happy Hour.
More Dali Museum information can be found here.
Museum of Fine Arts information can be found here.
Imagine Museum information can be found here.
Royal Palm Market
Enjoy live music, food, shopping and craft cocktails every Thursday at 6PM under the royal palms of St. Pete! This weekly night market is located right next to Intermezzo Coffee & Cocktails and features local artists, boutiques, handmade goods, leather goods, wood burning, clothing & accessories, specialty dog treat vendors, soaps, candles and so much more! Bring the whole family including your pets to this free, weekly event.
Look Back At It Thursdays with DJ Shannon C
Ladies, this one is for you – head on over to Yard of Ale St. Pete from 11PM-1AM for the best of the 90s and great drink and food deals ($2 Ladies Wells, $3 Ultra, $4 White Teas, $5 Stoli, LITs, $5 Chicken / Veggie Skewers)!
FRIDAY 4/5
Yoga for Lunch at Station House
Unwind and renew with a mid-day Yoga break! A soulful exploration of the body and mind will leave you feeling rejuvenated and ready to embrace the rest of your day, and the weekend ahead.  In the heart of downtown St. Pete, join us for a 45 minutes flow that will get your blood pumping, body moving and soul squealing for joy! Starts at 12pm.
Friday Night Clay at Morean Center for Clay
Spend your Friday evening playing in clay at the Morean Center for Clay! Be prepared to get dirty for two hours from 7-9PM. of wheel throwing and hand building. Bring a towel, your favorite beverage, and a group of friends or a date for a fun get-together. You'll get to select your favorite piece at the end of the night and they will bisque and glaze it for you to bring home. Purchase your tickets for $25 online today.
Friday Nights at the St. Pete Shuffleboard Club
It's not just for the older generation anymore! Join the fun at the world's largest shuffleboard club to see why this pastime has regained its popularity in the Sunshine City. Free every Friday night from 7-11 p.m., locals and visitors alike flock to this private recreational club. If you're not sure how to play, have no fear as volunteers are on hand to give you a lesson or two. Bring your own snacks and beverages – local craft beers tend to be a popular choice. There's often live music or a DJ on-site to keep you shufflin'. Children are welcome and so are well behaved dogs.
First Friday St. Pete
Celebrate every First Friday of the month in St. Pete with a free block party complete with live music and dancing! The action goes down between 2nd and 3rd streets on Central Ave. from 5:30-10PM.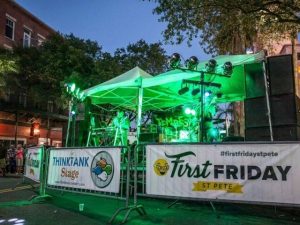 SATURDAY 4/6
Saturday Morning Market
Check out this week's rendition of St. Pete's favorite way to say good morning. It's full of all of the goods – and eats – to make your Saturday morning sweet. Stop by at 101 1st Street SE between 9am and 1pm.
St. Pete Walking Mural Tour
Hear the inside stories of the making of more than 30 murals found in the Central Arts District in downtown St. Petersburg. The four-block tour begins at Florida CraftArt, 501 Central Ave., each Saturday morning at 10AM and concludes at 11:30AM. Call 727-821-7391 or email gallery@FloridaCraftsmen.net to book a tour, which costs $19 for adults and $11 for children. A portion of the proceeds from the tours will be used to fund future murals.
Taco & Tequila Crawl
Check out the best tacos in St. Pete while also enjoying exclusive deals on margaritas, tequila, and beer! Check in at Park & Rec at 11AM and make your way through local highlights like Yard of Ale, Pelican Pub, Thirsty First and many more! General admission is $25 and VIP is $40. For more information and to buy tickets, visit here.
Brocante Market
Explore 15,000 sq feet of vintage treasure finds at this monthly market in St. Pete! This true vendor-run market has an amazing variety and selection of vintage items unlike anywhere else. Grab your next vintage find the first weekend of each month from 9 a.m.-7 p.m. on Saturday and 9 a.m.-5 p.m. on Sunday at 2200 2nd Ave S in St. Pete.
Free Yoga in the Park
Relax & unwind with free yoga at Crescent Lake Park on the first Saturday of every month starting at 9AM. For more information, contact Healthy St. Pete at (727) 892-5994 or visit HealthyStPeteFL.com.
St. Pete Indie Market
St. Pete Indie Market is a monthly market, featuring 100+ vendors. The market showcases local artists, indie designers, vintage collectors, food trucks, jewelry makers, horticulturists, eclectic crafters and other local businesses and organizations. The market spills out of Green Bench Brewing Co. with specialty cocktails being served up at Intermezzo Coffee & Cocktails. Get a taste of St. Pete's local vibe and eat, shop and drink the first Saturday of each month from 12 – 4PM
Tampa Bay Rowdies Soccer – Rowdies vs. Hartford Athletic, 7:30PM
Kick it at Al Lang Stadium and cheer on the Tampa Bay Rowdies! Experience the electrifying home games with stands packed with fans cheering the team on with age old songs and chants, top notch concessions, and an outdoor stadium situated right on the waterfront of downtown St. Pete. Gates open 60 minutes prior to kickoff.
SUNDAY 4/7
St. Pete Sunday Market
LocalShops1 will be hosting a Sunday Market at Caddy's on Central! This runs weekly from 12PM to 4PM each Sunday through April. Sip mimosas, enter raffles, and enjoy live music as you shop a variety of local vendors!
Yoga at The Dali
Come with your yoga mat and get ready to be inspired! Join Lucky Cat Yoga at 10:30 AM every Sunday at The Dali Museum for yoga. Classes are held in the Raymond James Community Room or outside in the Avant-garden, both with incredible views of the waterfront. The cost to participate is $10 for members and $15 for non-members. Tickets can be purchased at the Member's desk.
Champagne Shuffle
Sip champagne and enjoy a game of shuffleboard to benefit the city's beautiful waterfront parks! The St. Petersburg Shuffleboard Club hosts this event from 2-5PM. Tickets are $20 general admission andd children 12 and under are free! They can be purchased here. Proceeds benefit the Waterfront Parks Foundation.
Festivals of Speed
Head on over to Vinoy Park for the 15th annual Festivals of Speed! The event runs from 10AM-4PM. Visitors enjoy a wide variety of exceptional products and services sponsors provide. Events include Luxury Lifestyle Jetport Receptions, Wine Connoisseurs dinners, Yacht Displays, Ride & Drive experiences, Fine Art & Jewelry displays and more! Tickets are $20 general admission and $125 VIP. Proceeds benefit Friends of Strays!  Tickets can be purchased here.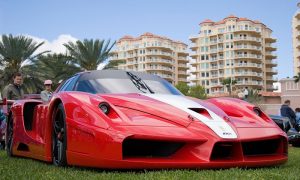 MUSEUMS
Rock & Roll Exhibition at The Florida Holocaust Museum
Explore the extraordinary life of renowned music promoter Bill Graham (1931 – 1991) who helped launch and promote the careers of countless rock & roll artists. This exhibition also traces the indomitable spirit of a man who was brought to the United States as an eleven-year-old Jewish refugee fleeing the Nazis, fueling lifelong passion and advocacy for social justice (now EXTENDED through June 30th!).
GLOW: The Hand-Painted Photographs of E. G. Barnhill (last chance!)
This special exhibition of the Museum of Fine Arts St. Pete features hand painted photographs of E. G. Barnhill (1894-1987) which offer a unique voyage into the natural splendors of Florida during the early part of the twentieth century. See it before it leaves on April 7th!
A Feast for the Eyes Exhibition at Museum of Fine Arts St. Pete
Dreamy landscapes and luscious still life paintings from one of the world's greatest private collections join together in A Feast for the Eyes: European Masterpieces from the Grasset Collection. This stunning exhibition will be on display at the Museum of Fine Arts, St. Pete from March 23 through July 28, 2019. The exhibition features 40 of the finest Old Master paintings by artists from the Netherlands, Italy, Spain, and Germany -including Jan Brueghel the Elder and Canaletto, one of the greatest view painters of all time represented here with an iconic view of Venice.The works span from 1600 to 1750. The collection is on loan from the Grasset family of Spain, whose patriarch assembled this group of masterpieces.
Magritte and Dali: A Surreal Exhibition
The Magritte & Dali Exhibition challenges reality with the works from the world's two most celebrated surrealists – Rene Magritte and Salvador Dali. In addition to viewing the 30+ works on display in the special exhibit, immersive installations allow you to be part of some of their most iconic pieces of art. The exhibitions runs through May 19, 2019 and tickets are available here.