Ah, yes…the weekend. That time when we enjoy the fruits of our labor. Get your weekend started right on Thursday at the Florida Holocaust Museum with a talk from artist George Stovall about his Dali-inspired art. On Friday, catch a Rays game at the Trop. Saturday features all of the sports (Rays & Rowdies), as well as a talk from Dr. Jordan Peterson at the Mahaffey. Sunday, check out one (or two) of our city's many fine museums, like the Bill Graham exhibition at the Florida Holocaust Musuem or the "This Is Not a Selfie" exhibit at the MFA.

THURSDAY SEPTEMBER 13
Fine Art after 5pm: reduced admission to The Dali Museum, MFA & Imagine Museum
Fine art can be pricey. Thursdays after 5pm, visit the Dali for just $10, the Imagine Museum for $5, and the MFA for $5. Have a glass of wine and stroll the museums for the perfect Happy Hour.
More Dali Museum information can be found here.
Museum of Fine Arts information can be found here.
Imagine Museum information can be found here.
Movies in the Park Announcement Party
This is your chance to get the scoop on what movies and live music will be playing in Straub Park each Thursday during the month of October! St. Petersburg Preservation will unveil the October 2018 movie poster from 6:00-8:00 pm in the courtyard at the Ale & the Witch with beer, movie trivia, live music and the chance to win awesome prizes.
Florida Holocaust Museum: Summer of Love Experience
Join the Florida Holocaust Museum from 6:30 to 8:30 p.m. for a talk given by artist George Stovall, an attendee of Bill Graham's Fillmore West during the "Summer of Love." He describes his art as being inspired by Salvador Dali, an extremely familiar name to St. Pete residents, and by clothing designer and artist Elsa Schiaparelli. Stovall's custom designs with commentary from the artist himself makes for an evening well spent.
This talk is free and open to the public, but reservations must be made to attend. Call 727-820-0100 ext. 301 to reserve your seat at this event.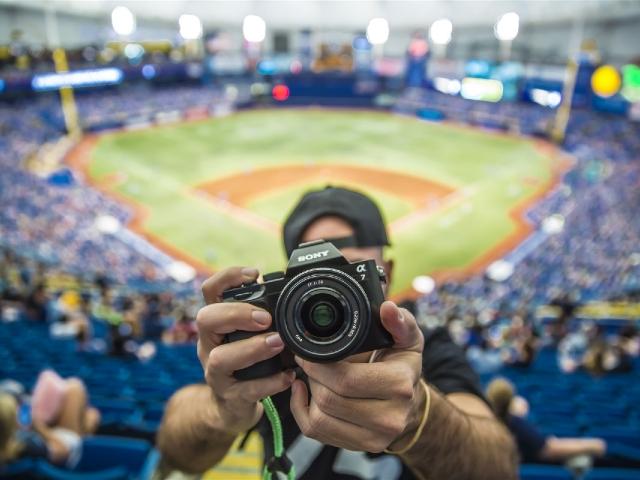 FRIDAY SEPTEMBER 14
Happy 4 Hours
For a full four hours (3-7 pm) at The Oyster Bar, enjoy drink specials such as $5 Smirnoff martinis and $5 draft beers.
HYbar Happy Hour
Hit the bar at St. Pete's newest hotel – The Hyatt Place St. Pete. Celebrate your long week with a cold craft cocktail or local craft brew while listening to local live music! This high brow happy hour happens every Friday night, with beautiful views and great deals.  Happy Hour runs from 4:30pm-7:30pm.
Tampa Bay Rays vs. Athletics 7:10pm
With a solid mix of newly acquired talent and seasoned players on the roster for 2018, the Tampa Bay Rays are set to be one of the strongest teams in this season's American League East, which many believe is the most challenging division of baseball.

SATURDAY SEPTEMBER 15
Poolside Yoga and Brunch
If there weren't enough yoga options for you already, here's another: poolside yoga at the Hollander Hotel at 8:30 followed by brunch. Salute the sun with Allison Moonbeam Archer then cool off in the Hollander Hotel Downtown St Petersburg's beautiful pool. All levels are welcome for this slow flow class and mats will be provided as needed. $5 Body Electric monthly and annual members; $10 pre-registered; $15 at the door.
St. Pete Walking Mural Tour
Hear the inside stories of the making of more than 30 murals found in the Central Arts District in downtown St. Petersburg. The four-block tour begins at Florida CraftArt, 501 Central Ave., each Saturday morning at 10 a.m. and concludes at 11:30 a.m. Call 727-821-7391 or email gallery@FloridaCraftsmen.net to book a tour, which costs $19 for adults and $11 for children. A portion of the proceeds from the tours will be used to fund future murals.
Thirsty Pelican Brew Tour
Experience the Gulp Coast in style with the Thirsty Pelican Brew Tours! Get picked up straight from your hotel or from one of the other select pickup locations in Downtown St. Pete. The tour gives you an inside look at select breweries while sampling the best craft beer the Gulp Coast has to offer (all without having to worry about driving). Book your tour on their website or by calling (727) 418-7625.
Storytellers Exhibition at the Chihuly Collection
This narrative driven glass exhibition is on display at the Chihuly Collection from June 8 – Oct 31. Tickets are included with general admission and can be purchased online or in person.
Tampa Bay Rays vs. Athletics 6:10pm
With a solid mix of newly acquired talent and seasoned players on the roster for 2018, the Tampa Bay Rays are set to be one of the strongest teams in this season's American League East, which many believe is the most challenging division of baseball.
Rowdies vs. Atlanta United FC 2, 7:30 p.m.
Get 'Rowdie' at Al Lang Stadium and cheer on the Tampa Bay Rowdies as they take on Atlanta United FC 2. Kickoff is at 7:30 pm and tickets start at $25.
Jordan B. Peterson – 12 Rules for Life Tour
Dr. Peterson, the famed public intellectual, psychology professor and lightning rod of controversy, is bringing his book tour to St. Petersburg, on Saturday, September 15 at 7:30 pm at the Mahaffey Theater. Dr. Peterson is a professor at the University of Toronto, a clinical psychologist and the author of the million-plus selling 12 Rules for Life: An Antidote to Chaos (Jan 2018, Penguin Books), which has been a Number 1 bestseller in the US, Canada, the UK, Australia, New Zealand, Sweden, the Netherlands and Brazil, and which is now slated to be translated into 40 languages.
SUNDAY SEPTEMBER 16
Yoga at The Dali
Bring along your yoga mat and come ready to be inspired! Join Lucky Cat Yoga at 10:30 a.m. every Sunday at The Dali Museum for yoga. Classes are held in the Raymond James Community Room or outside in the Avant-garden, both with incredible views of the waterfront. The cost to participate is $10 for members and $15 for non-members. Tickets can be purchased at the Member's desk.
Masterpieces & Mimosas at the Dali Museum
Let's get (Sur)real. What could be better than a Spanish brunch, complete with mimosas AND the wild works of Salvador Dali? No comparison. Grab a companion for your journey into weird and wonderful from 11 to 4pm in the museum's Gala Cafe.
Dog Day at the Rays
A baseball game for both you AND your puppy pal! Bring your dog out to watch the Tampa Bay Rays take on the Oakland Athletics at this special Dog Day event at Tropicana Field. For just $30, you'll have a seat for you and your best pal in the tbt* Party Deck, Rays Dog Day themed giveaways and more doggy activities throughout the game. The game starts at 1:10 p.m. Use the password DOG1 when purchasing tickets. Deadline to purchase tickets is September 13 at 11:59 p.m.
Tampa Bay Rays vs. Athletics 1:10pm
With a solid mix of newly acquired talent and seasoned players on the roster for 2018, the Tampa Bay Rays are set to be one of the strongest teams in this season's American League East, which many believe is the most challenging division of baseball.
Clyde Butcher: Visions of Dali's Spain
To create this special exhibition, The Dali invited Clyde Butcher, the renowned nature photographer often called "Florida's Ansel Adams," to explore and visually document Salvador Dali's homeland. Clyde Butcher: Vision's of Dali's Spain provides a technically brilliant, epically scaled view of Dali's beloved environs,  to creates a euphoric experience of immersion.
James Museum of Western & Wildlife Art Presents "Art and the Animal"
A special exhibition featuring premier wildlife art from artists around the world! Organized in collaboration with The Society of Animal Artists, "Art and the Animal" will feature over 100 paintings and sculptures, with select art available for purchase. This exhibition is on display at the James Museum of Western & Wildlife Art in downtown St. Pete from July 28 – October 23, 2018.
Rock & Roll Exhibition at The Florida Holocaust Museum
Explore the extraordinary life of renowned music promoter Bill Graham (1931 – 1991) who helped launch and promote the careers of countless rock & roll artists. This exhibition also traces the indomitable spirit of a man who was brought to the United States as an eleven-year-old Jewish refugee fleeing the Nazis, fueling lifelong passion and advocacy for social justice.
This Is Not a Selfie Exhibition at MFA St. Pete
In the current "Age of the Selfie," this exhibition offers a compelling look at the primacy and variety of expressions within self-portraiture through the eyes of an artist. This exhibition features artists who expand the domains of self-portraiture by blurring the distinction between reality and fantasy, artifice and authenticity, and public and private imagery. This Is Not a Selfie provides an opportunity to view the remarkably innovative and diverse methods photographers use, offering new meanings into our own understanding of the self.