Happy #WorldOceansDay to all of us who call this peninsula on a peninsula home. We are surrounded by ocean – literally – so its pretty important to celebrate. Take the kids out to the World Oceans Day celebration tonight at Port of St. Pete. Continue the festivities all weekend with art, music, Pier beers and much more.

FRIDAY JUNE 8
World Oceans Day at the Marine Exploration Center
A Street Festival and Celebration of Our Waters in and Around Tampa Bay.
A Family Fun Evening with FREE Admission Featuring:  • Earth and Marine Friendly Vendors • Hands-On Learning Booths  • Games and Fun for Kids  • Touch Tank  • Food Trucks  • Screening of "The Smog of the Sea" • Beer and Wine for Sale. Event runs 5-9pm at Port of St. Pete, 250 8th Ave SE. For more information click here. 

Off Beach: PRIDE & JOY // An LGBTQ Art Exhibit
MIZE presents PRIDE & JOY Art Exhibit. This art show features 26 local and national LGBTQ artists. The multimedia exhibit is a celebration of life and living free! Exhibit runs June 8th – July 1st, 2018 at MIZE Gallery – 689 Dr. MLK N, Unit C.
Jason Kitchen & DJ Lyndon in the Ba Lounge at Ichicoro ANE
A weekly night of House Music with sounds provided by Jason Kitchen and Lyndon Uy. Every Friday night the Ba Lounge will be transformed into a Japanese Den of sound that will surely transport you away. This free event will offer you craft cocktails, bottle service (with private seating area's to enjoy the DJ), and a late night menu till 1 am.
TC Carr & Bolts of Blue at The Ale & The Witch
Join TC Carr & Bolts at the Ale & The Witch for a night of great music and even greater beer. Music starts at 8:30pm.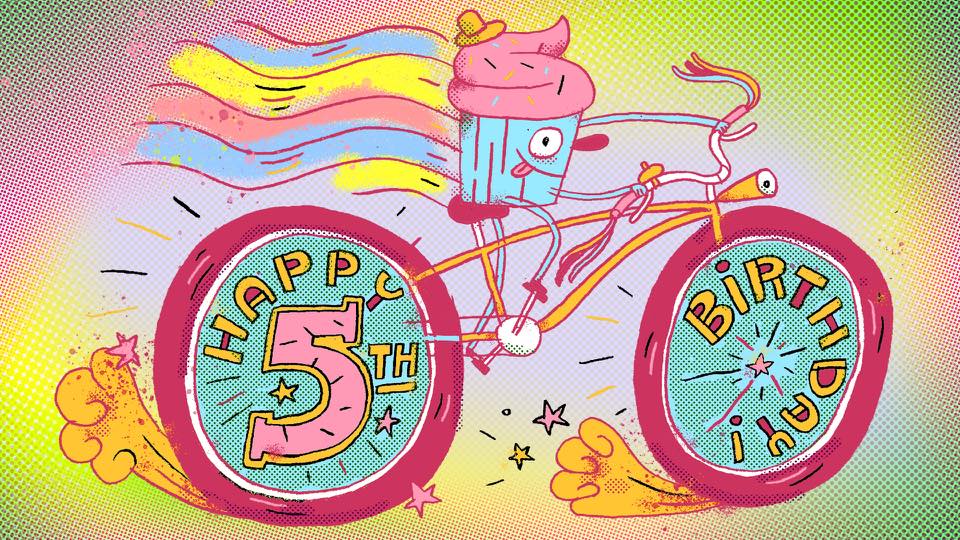 SATURDAY JUNE 9
Off Beach: St. Pete Bike Co-op 5 Year Anniversary Gala
St. Pete Bike Co. is celebrating 5 years of of building and refurbishing bikes, riding bikes and a whole lot of talking about bikes. So they're putting on a party! They're partnering with Cycle Brewing and many other local businesses to put on the best party possible. Donations ($5 suggested) are greatly appreciated for touring bands and keeping the Co-op lights on! 6pm-10pm at St. Pete Bike Co-op, 559 Mirror Lake Dr. N.
Smiles & Surrealism Tour at the Dali Museum
Kids ages 5-13 are invited to bring their families on a special 1-hour Museum tour. Meet on the third-floor overlook at 10:15am and get ready for surreal smiles, awesome art & family fun. (Warning: you may accidentally learn a thing or two, too.) Free with admission.
Running for (Coffee) Brews!
Join Run For Brews every Saturday morning at 8am for a FREE 5K run in DTSP, followed by coffee and breakfast at Mickey's Cafe on Central! The 5K is a beautiful waterfront route in downtown St. Pete… and runners receive 10% off food and drinks at Mickey's on their return! Kick that New Years Resolution into full gear and get running! All levels are welcome…walkers, runners, joggers! If you haven't already signed a waiver, please do so at www.runningforbrews.com.
Saturday Morning Market at Al Lang Stadium
St. Pete's favorite way to say good morning is on Beach Drive. It's full of all of the goods – and eats – to make your Saturday morning sweet. Stop by  from 9am to 2pm. For more information, visit their website: http://saturdaymorningmarket.com/
Tampa Bay Rowdies vs. Nashville SC
Home Game 6 is coming to Al Lang Stadium this Saturday as the Rowdies take on Nashville SC at 7:30pm. Don't forget to don the green and gold and cheer for your home team. Tickets here. 
Beers on the Pier at St. Pete Museum of History
Join 98ROCK on Saturday, June 9th from 6p – 10p while they crank up the good times at the St. Pete Museum of History's Craft Beer Festival! Beers on the Pier is presented by J.J. Taylor. Tickets are $35 in advance.
SUNDAY JUNE 10
Tampa Bay Caribbean Carnival "24th Anniversary" Celebration
Enjoy a taste of the Caribbean islands without having to board a plane or cruise ship. If you love Caribbean music, like to experience different cultures, or just like to have fun, you have to attend Tampa Bay Caribbean Carnival. With colorful costumes, exquisite delicacies, and exotic music, this event is a must-see for all music and art lovers. This annual weekend event hosted by our nonprofit cultural organization and held in St. Petersburg, Florida, offers fun for your entire family. Tickets and more information here.
Yoga at the Dali
From 10:30-11:45am every Sunday. Join Lucky Cat Yoga every Sunday at The Dali – a remarkable environment where Dali's energy infuses the physical, mental and spiritual inspiration of yoga. Classes are held in the Raymond James Community Room or Avant-Garden, both with incredible views of the waterfront.
The Lucky Cats teach vinyasa yoga, an all-levels approach that incorporates an interplay of basic breath work, postures, meditation and relaxation. Each student is encouraged to awaken and sustain their practice at their own pace. Please arrive early on a light stomach. Don't have a mat? We have several on hand to lend.
Cost: $10 members and students, $15 non-members.
Masterpieces & Mimosas at the Dali Museum
Let's get (Sur)real. What could be better than a Spanish brunch, complete with mimosas AND the wild works of Salvador Dali? No comparison. Grab a companion for your journey into weird and wonderful from 11 to 4pm in the museum's Gala Cafe.