Don your gayest apparel (don't have to wear much), break out the rainbow flag – or if it's already flying, raise it higher – and get the gang together to proudly hit and/or dance in the inclusive streets of St. Pete.
The weekend starts early this week, with a whole host of events happening in celebration of St. Pete Pride. Whether you're a member of the LGBTQ community or an ally, you can show your pride all week and weekend long at St. Pete Pride.
Of course, you can also get your usual fix of St. Pete culture and events this weekend, with opportunities for art, yoga, a happy hour and good ol' Saturday Morning Market.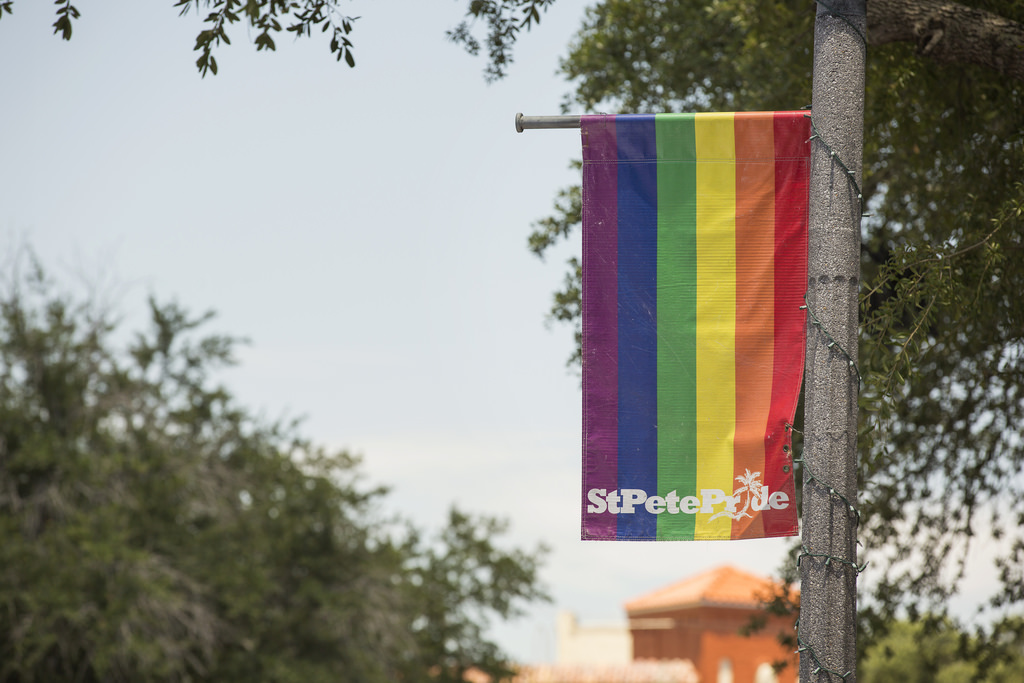 WEDNESDAY JUNE 20
St. Pete Pride Reception
Pride kicks the weekend off early, with a reception on Wednesday evening from 7pm-9pm at the Museum of Fine Arts in downtown St. Pete. More than 300 bon vivants should attend the Stonewall Commemorative Reception, where for your $30 entry fee, you'll enjoy the museum, food and an open, full-service bar.

THURSDAY JUNE 21
St. Pete Pride Rooftop Kickoff Party
On Thursday, Pride hits its stride with a rooftop kickoff party at the Hotel Zamora on St. Pete Beach. Party the night away at the Castile Rooftop Bar, as you listen to live music while savoring the flavors of Spanish-influenced Topaz and Cabana Boy Cocktails.
Fine Art after 5pm: reduced admission to The Dali Museum, MFA & Imagine Museum
Fine Art after 5pm: reduced admission to The Dali Museum, MFA & Imagine Museum
Fine art can be pricey. Thursdays after 5pm, visit the Dali for just $10, the Imagine Museum for $5, and the MFA for $5. Have a glass of wine and stroll the museums for the perfect Happy Hour.
More Dali Museum information can be found here.
Museum of Fine Arts information can be found here.
Imagine Museum information can be found here. 

FRIDAY JUNE 22
Yoga for Lunch at Station House
This class is INSIDE in the Do Things room on the second floor of Station House for the Summer months.  Unwind and renew with a mid-day Yoga break! A soulful exploration of the body and mind will leave you feeling rejuvenated and ready to embrace the rest of your day, and the weekend ahead.  In the heart of downtown St. Pete, join us for a 45 minutes flow that will get your blood pumping, body moving and soul squealing for joy! Starts at 12pm.
HYbar Happy Hour
Hit the bar at St. Pete's newest hotel – The Hyatt Place St. Pete. Celebrate your long week with a cold craft cocktail or local craft brew while listening to local live music! This high brow happy hour happens every Friday night, with beautiful views and great deals.  Happy Hour runs from 4:30pm-7:30pm.
Transtastic: Trans March Pre-Party, and the SP2 Concert
On Friday, the festivities ramp up with Transtastic, the Trans March Pre-Party at the Flying Boat Brewing Company, where admission is free and vegan food, movies, beer and board games await. Also on Friday (also for free), from 6pm-10pm at North Straub Park, check out the SP2 Concert, hosted by Coco Montrese. This will be a fundraising event benefitting many Tampa Bay community organizations. Absolut Vodka and Bud Lite beverages will be sold (proceeds of which go to the St. Pete Pride Community Grants Program) as Spazmatics, Rolando and Swipe Right rock out for a good cause.

SATURDAY JUNE 23
Saturday Morning Market at Al Lang Stadium
St. Pete's favorite way to say good morning is on Beach Drive. It's full of all of the goods – and eats – to make your Saturday morning sweet. Stop by  from 9am to 2pm. For more information, visit their website: http://saturdaymorningmarket.com/
St. Pete Pride Celebration, Trans Pride March, and St. Pete Pride Parade
Saturday's a busy day for Pride, with the St. Pete Pride Celebration from 2pm-6:30pm at North Straub Park. The celebration features live entertainment as well as food and beverage vendors. The Trans Pride March starts at 7pm in Downtown St. Pete, and the St. Pete Pride Parade starts at 7:30. Join the more than 200,000 people who will be in attendance. Fireworks are tentatively scheduled for 9:30. Admission to all events just mentioned on Saturday is free.

SUNDAY JUNE 24
St. Pete Pride Street Festival
On Sunday, drop by the St. Pete Pride Street Festival from 11am-5pm in the Grand Central District, where more than 40,000 people will be enjoying food and entertainment, in addition to mingling with local LGBTQ+ organizations. Admission's free!
Yoga at the Dali
From 10:30-11:45am every Sunday. Join Lucky Cat Yoga every Sunday at The Dali – a remarkable environment where Dali's energy infuses the physical, mental and spiritual inspiration of yoga. Classes are held in the Raymond James Community Room or Avant-Garden, both with incredible views of the waterfront.
The Lucky Cats teach vinyasa yoga, an all-levels approach that incorporates an interplay of basic breath work, postures, meditation and relaxation. Each student is encouraged to awaken and sustain their practice at their own pace. Please arrive early on a light stomach. Don't have a mat? We have several on hand to lend.
Cost: $10 members and students, $15 non-members.
Masterpieces & Mimosas at the Dali Museum
Let's get (Sur)real. What could be better than a Spanish brunch, complete with mimosas AND the wild works of Salvador Dali? No comparison. Grab a companion for your journey into weird and wonderful from 11 to 4pm in the museum's Gala Cafe.