Happy weekend, St. Pete! It's Labor Day Weekend, so close the summer in the best place to be – DTSP. This weekend's highlights include: Thursday – the Royal Palm Market, a stop on the George Clinton tour, and dedication of the new sculpture "Community DNA." Friday – clay, shuffleboard, art at the Vinoy, and Buddha Bar at the Imagine Museum. Saturday – Rays, Rowdies, and the opening of the Dali's latest exhibit. Sunday – mimosas and yoga at the Dali, a pool party at the Hollander, and a Labor Day celebration at the Crafty Squirrel. Monday is Labor Day, so enjoy your long weekend!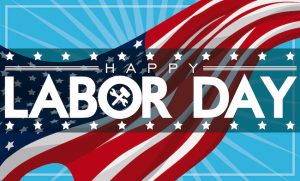 THURSDAY 8/29
Fine Art after 5PM: reduced admission to The Dali Museum, MFA & Imagine Museum
Fine art can be pricey. Thursdays after 5PM, visit the Dali for just $10, the Imagine Museum for $5, and the MFA for $10. Have a glass of wine and stroll the museums for the perfect Happy Hour.
More Dali Museum information can be found here.
Museum of Fine Arts information can be found here.
Imagine Museum information can be found here.
Royal Palm Market
Enjoy live music, food, shopping and craft cocktails every Thursday at 6PM under the royal palms of St. Pete! This weekly night market is located right next to Intermezzo Coffee & Cocktails and features local artists, boutiques, handmade goods, leather goods, wood burning, clothing & accessories, specialty dog treat vendors, soaps, candles and so much more! Bring the whole family including your pets to this free, weekly event.
George Clinton "One Nation Under a Groove" Tour
Head to the Mahaffey Theater for a night of music and funk! George Clinton embarks on his farewell tour with Funkadelic. The concert begins at 6PM. Tickets start at $45 and can be purchased here.
Dedication of the Sculpture "Community DNA"
Just outside the new St. Petersburg Police Department building is a new sculpture, named "Community DNA." And appropriately so – each line and shape on the sculpture is created from a photo of the city. Join the City of St. Pete and artist Catherine Woods as they dedicate this sculpture. See what photos you can spot!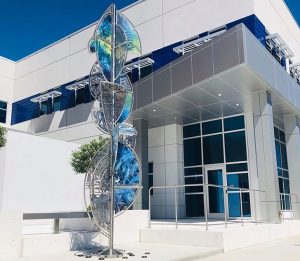 FRIDAY 8/30
Yoga for Lunch at Station House
Unwind and renew with a mid-day Yoga break! A soulful exploration of the body and mind will leave you feeling rejuvenated and ready to embrace the rest of your day, and the weekend ahead.  In the heart of downtown St. Pete, join us for a 45 minutes flow that will get your blood pumping, body moving and soul squealing for joy! Starts at 12pm.
Friday Night Clay at Morean Center for Clay
Spend your Friday evening playing in clay at the Morean Center for Clay! Be prepared to get dirty for two hours from 7-9PM. of wheel throwing and hand building. Bring a towel, your favorite beverage, and a group of friends or a date for a fun get-together. You'll get to select your favorite piece at the end of the night and they will bisque and glaze it for you to bring home. Purchase your tickets for $25 online today.
Friday Nights at the St. Pete Shuffleboard Club
It's not just for the older generation anymore! Join the fun at the world's largest shuffleboard club to see why this pastime has regained its popularity in the Sunshine City. Free every Friday night from 7PM-11PM, locals and visitors alike flock to this private recreational club. If you're not sure how to play, have no fear as volunteers are on hand to give you a lesson or two. Bring your own snacks and beverages – local craft beers tend to be a popular choice. There's often live music or a DJ on-site to keep you shufflin'. Children are welcome and so are well behaved dogs.
Tampa Bay Rays Baseball – Rays VS Indians, 7:10PM
Watch the Rays face off against the Cleveland Indians this weekend! Come see them take the field in downtown St. Pete at Tropicana Field, recently revamped with a First Base Food Hall where fans can get a taste of local bars & restaurants. And after, enjoy the neighboring Edge District, which is lined with local and authentic breweries, shops and restaurants. Tickets here.
Imagine Museum After Hours Presents "Buddha Bar"
Reserve your tickets now for an unforgettable experience as we transform our Grand Hall into a Buddha Bar and formally unveil the latest acquisitions from internationally renown glass artist Karen LaMonte in our Floating World exhibition. The evening's music is featuring DJ Yana, who is being flown in from Boston and FL Orchestra's Dan Danut, recording artist, composer, arranger, and violinist playing live for your enjoyment! Free for members, $10-15 general admission. This event runs from 6:30PM to 9PM.
Space fills quickly, be sure to RSVP: https://76188.blackbaudhosting.com/76188/Imagine-Museum-After-Hours.
Art Show at the Vinoy
On August 29, 2019 you will enjoy 4 (four) Artworks created by 12 (twelve) Artists. If you want to get a sneak peek and better understand the most sophisticated game in art history, The Exquisite Corpse Games, stop by The Vinoy this Thursday night and see a unique blind artistic collaboration.There are three works of art to each piece, done by a different artist: head, torso and legs.
Artists on display: Lesli Pringle, Frederick Woods, Anita Wexler, Jim Kammerud , Jim Rolston, Rebekah Lazaridis, Nicolas Descharnes, Tomeu L'Amo, Chuck Vosburgh, Geff Strik, Don Gillespie, and Emy Ernst.
Rebekah Pulley Twosome at the Ale and the Witch
Join Rebekah and Rob for an evening of soulfully inspired tunes with just a touch of southern twang. While you're there, enjoy a vast selection of craft beers to sip on from the Ale and the Witch. This event is free and runs from 8PM to 11PM.
Stranger Things Costume and Dance Party
If you love Stranger Things, you'll love this event! Check out The Bends for a night of dancing and fun based on the hit Netflix series. Come and experience The Bends as they transform it to the newly built Starcourt Mall from Hawkins, Indiana!! Dance all night in the food court as The Shadow Run Brothers play through the Stranger Things soundtrack mixing in some of the best 80's new wave and snyth-pop. The night also includes costume contests (dress to impress! or shoot monsters), a themed cocktail menu, and more. This event happens from 9PM to 3AM. No cover. 21+.
Broadway Un-Bound! At Cassis
Five of the area's finest comedic singers come together for an amazing salute to 70 years of Broadway song and dance. A fast-paced kaleidoscope of great show tunes with a few laughs along the way. We'll do all your Broadway favorites, so prepare to sing along! Featuring Joseph Alan Johnson, Cassis' oldest employee – like you've never seen him before!Two Shows @ 6:00PM & 8:00PM. Reservations are recommended. When making your reservation, please advise the host of show attendance.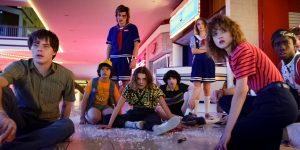 SATURDAY 8/31
Saturday Morning Market
Check out this week's rendition of St. Pete's favorite way to say good morning. It's full of all of the goods – and eats – to make your Saturday morning sweet. Stop by Williams Park between 9AM and 1PM.
St. Pete Walking Mural Tour
Hear the inside stories of the making of more than 30 murals found in the Central Arts District in downtown St. Petersburg. The four-block tour begins at Florida CraftArt, 501 Central Ave., each Saturday morning at 10AM and concludes at 11:30AM. Call 727-821-7391 or email gallery@FloridaCraftsmen.net to book a tour, which costs $19 for adults and $11 for children. A portion of the proceeds from the tours will be used to fund future murals.
Poolside Yoga and Brunch
If there weren't enough yoga options for you already, here's another: poolside yoga at the Hollander Hotel at 8:30 followed by brunch. Salute the sun with Allison Moonbeam Archer then cool off in the Hollander Hotel Downtown St Petersburg's beautiful pool. All levels are welcome for this slow flow class and mats will be provided as needed. $5 Body Electric monthly and annual members; $10 pre-registered; $15 at the door.
Drag Brunch
Head to the Iberian Rooster's SubCentral for a morning of food and entertainment! This weekly event starts at 11AM. Drag queens Adriana Sparkle, Nicole T. Lane, and Juno Vibranz bring the fun while you bring your appetite. Tickets are $25 and can be purchased here.
Tampa Bay Rays Baseball – Rays VS Indians, 6:10PM
Watch the Rays face off against the Cleveland Indians this weekend! Come see them take the field in downtown St. Pete at Tropicana Field, recently revamped with a First Base Food Hall where fans can get a taste of local bars & restaurants. And after, enjoy the neighboring Edge District, which is lined with local and authentic breweries, shops and restaurants. Tickets here.
Tampa Bay Rowdies Soccer – Rowdies vs. Nashville SC, 7:30PM
Kick it at Al Lang Stadium and cheer on the Tampa Bay Rowdies! Experience the electrifying home games with stands packed with fans cheering the team on with age old songs and chants, top notch concessions, and an outdoor stadium situated right on the waterfront of downtown St. Pete. Gates open 60 minutes prior to kickoff.
Opening Day "Flavors of Spain: Photos by Chef Chuck Bandel" at the Dali Museum
The Dalí Museum presents an exhibition featuring food photography and behind-the-scenes looks at restaurant life by Café Gala Chef Chuck Bandel. Bandel's trips to northern Spain in the summers of 2017 and 2018 allowed him to study in Catalonia at Chef Paco Pérez's 2 Michelin star restaurant, Miramar, and in the outskirts of the Basque town of San Sebastian at the Restaurante Martin Berasategui. Find this exhibit in the Raymond James Community Room.

SUNDAY 9/1
Yoga at The Dali
Come with your yoga mat and get ready to be inspired! Join Lucky Cat Yoga at 10:30 AM every Sunday at The Dali Museum for yoga. Classes are held in the Raymond James Community Room or outside in the Avant-garden, both with incredible views of the waterfront. The cost to participate is $10 for members and $15 for non-members. Tickets can be purchased at the Member's desk.
Mimosas & Masterpieces: Brunch at the Dali
Raise a glass to an artistic take on Sunday Fundays at Café Gala with Mimosas & Masterpieces! Enjoy a Catalan-inspired brunch, visit the galleries, stroll the grounds, contemplate the Avant-garden, browse the Museum Store and soak in all the brilliance of the world-famous Dali Museum. Enjoy this inspired brunch between 11AM to 4PM. Visit the Facebook event page here.
Tampa Bay Rays Baseball – Rays VS Indians, 1:10PM
Watch the Rays face off against the Cleveland Indians this weekend! Come see them take the field in downtown St. Pete at Tropicana Field, recently revamped with a First Base Food Hall where fans can get a taste of local bars & restaurants. And after, enjoy the neighboring Edge District, which is lined with local and authentic breweries, shops and restaurants. Tickets here.
Deep Splash House Pool Party
Enjoy the beautiful Hollander Hotel pool in the Florida summer heat. The event kicks off at 1PM with live music, drinks, and more. Call 727.873.7900 for cabana reservations.
GLOW Party (Labor Day Weekend) at the Crafty Squirrel
Light up Labor Day with a weekend glow party! Come celebrate the end of summer with your favorite crafty squirrels, $5 shots, drink specials and music by @DJ5DayForecast. This event runs from 8PM to 3AM.
LABOR DAY 2019
Enjoy an extra day off and check out events like the Hollander's Labor Day Pool Party!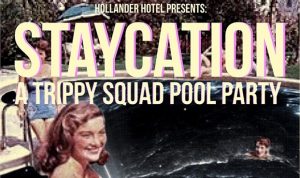 MUSEUMS
A Feast for the Eyes Exhibition at Museum of Fine Arts St. Pete
Dreamy landscapes and luscious still life paintings from one of the world's greatest private collections join together in A Feast for the Eyes: European Masterpieces from the Grasset Collection. This stunning exhibition will be on display at the Museum of Fine Arts, St. Pete from March 23rd through July 28th. The exhibition features 40 of the finest Old Master paintings by artists from the Netherlands, Italy, Spain, and Germany -including Jan Brueghel the Elder and Canaletto, one of the greatest view painters of all time represented here with an iconic view of Venice.The works span from 1600 to 1750. The collection is on loan from the Grasset family of Spain, whose patriarch assembled this group of masterpieces. This exhibit has been extended through September 2nd.
Straighten Up The World at the Museum of Fine Arts
This exhibition brings together works from the collection of the Museum of Fine Arts that display the prowess and innovation stemming from self-taught artistic practices from the American south. Purvis Young used cast-off materials to capture scenes and portraits of people he saw in his inner-city Overtown neighborhood of Miami, noting "I paint them all kinds of ways…some people protesting, some happy, some white, some are black, green or purple. People that think like me. Different kinds of people trying to straighten up the world." These artists face severe socio-political inequalities, including poverty and systemic racism, and yet created transformational artworks from materials that could easily be overlooked.  A number of their works call for change, as seen explicitly in Ned Cartledge's Freedom is Not Free (1995). Others portray family life and religious imagery, and many, as in the work of Lonnie Holley, embody the shrewd repurposing of materials and modes of improvisation. This exhibit runs through September 9th.
Above the Fold: New Expressions in Origami at the Museum of Fine Arts
The "Above the Fold" exhibition demonstrates the extraordinary power and potential of contemporary origami. Paper is transformed into breathtaking sculpture, large-scale installations and conceptual works that express contemporary social, political, and aesthetic ideas. Visionary master folders—such as Erik Demaine and Martin Demaine (Canada/USA), Vincent Floderer (France), Miri Golan (Israel), Paul Jackson (UK/Israel), Dr. Robert J. Lang (USA), Sipho Mabona (Switzerland/South Africa), Yuko Nishimura (Japan), and Richard Sweeney (UK)—push the boundaries of paper as a medium for creating bold and sophisticated works. The exhibition celebrates these artists who are redefining a traditional Japanese craft as a modern global genre and inventing unexpected forms of artistic expression. This exhibit runs through September 29th.
Before Dali: Goya – Visions and Inventions
Francisco Jose de Goya y Lucientes (1746-1828) is one of the most important Spanish artists of the late eighteenth and early nineteenth centuries, celebrated for his revolutionary paintings, drawings and engravings. Goya's life and works deeply influenced Salvador Dali in his early years, and are considered by many scholars to be the basis for "modern" art, bridging Classicism and Romanticism. Before Dali: Goya – Visions & Inventions, sponsored by Tampa International Airport,  features two alternating suites of first-edition prints, published in Goya's lifetime, alongside three significant paintings representing unique themes of Goya's works. The works are on loan from the Meadows Museum, Dallas, TX, home of one of the most substantial collections of Goya. This exhibit runs through November 3rd.
Imagined Realities – Virtual Reality at the Imagine Museum
Check out the newest addition to the Imagine Museum: virtual reality exhibits. With five fun, educational options (Google Tilt Brush, Google Earth VR, The Body VR, Apollo 11 VR, and Overview VR), visitors can create stunning 3D artwork, explore the solar system, or visit studio glass hotspots. Make 20 minute reservations online or at the front desk. The Apollo 11 exhibit is available at a reduced $5 price for the month of July and all other exhibits are available for $10 each. This runs from 5PM to 7:40PM on Thursdays and 10:30AM to 4:30PM on Saturdays.