Get ready for another weekend in St. Pete's fantastic downtown! This weekend brings on all the fun, from the start of the annual SHINE mural festival to Pops in the Park and more! Highlights include – Thursday: October Movies in the Park (Groundhog Day!), Cocktails and Collections at the MFA, and Opera at the Dali. Friday: Italian food and wine at Albert Whitted, Hymn for Her at the Ale and the Witch, and the SHINE kickoff. Saturday: free yoga at the Sundial, a 90s Nickelodeon costume party, and Pops in the Park (and lots more!). Sunday: yoga and brunch at the Dali, a movie at Green Bench, and Open Streets St. Pete. Have a fantastic weekend, everyone!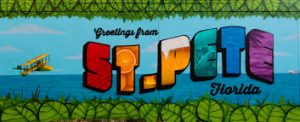 THURSDAY 10/17
Fine Art after 5PM: reduced admission to The Dali Museum, MFA & Imagine Museum
Fine art can be pricey. Thursdays after 5PM, visit the Dali for just $10, the Imagine Museum for $5, and the MFA for $10. Have a glass of wine and stroll the museums for the perfect Happy Hour.
More Dali Museum information can be found here.
Museum of Fine Arts information can be found here.
Imagine Museum information can be found here.
Royal Palm Market
Enjoy live music, food, shopping and craft cocktails every Thursday at 6PM under the royal palms of St. Pete! This weekly night market is located right next to Intermezzo Coffee & Cocktails and features local artists, boutiques, handmade goods, leather goods, wood burning, clothing & accessories, specialty dog treat vendors, soaps, candles and so much more! Bring the whole family including your pets to this free, weekly event.
Art Show at the Vinoy
Admire the works of local artists in the Vinoy lobby from 5:30PM to 7:30PM. Free admission – just head inside the hotel. Check the Facebook page for this week's featured artist!
October Movies in the Park
Movies in the Park started ten years ago with the Waterfront Parks Centennial Celebration. Over the past decade, Preserve the 'Burg has presented more than 80 FREE movies on Thursdays in May and October in what has become one of the city's most beloved traditions. Buy food and drinks from a variety of local vendors or pack your own picnic. Blankets and low-profile chairs are recommended. Secure on-site bicycle valet is available thanks to Coast Bike Share. Arrive early to enjoy the music. Pay-what-you-can donations are accepted to support Preserve the 'Burg's mission to protect and celebrate the things that make St. Pete special. Music starts at 7, movies at dusk. This event takes place at North Straub Park.
This week's movie is Groundhog Day. Full movie list here.
Cocktails & Collections at the Museum of Fine Arts
Cocktails & Collections, held on the third Thursday of each month, is a series of themed events focusing on one of the MFA galleries or special exhibitions. Enjoy live music, a customized docent tour, light bites and art-inspired signature cocktails, all inspired by the different works & artists.
Free for MFA Members, $20 For Not-Yet Members – (members must register and log in to receive discount).
Cash bar after first cocktail.
Opera at the Dali
Experience Opera at The Dali, as singers from The St. Petersburg Opera Company perform on the helical staircase. The performance runs from 6PM to 6:30PM. Learn more here.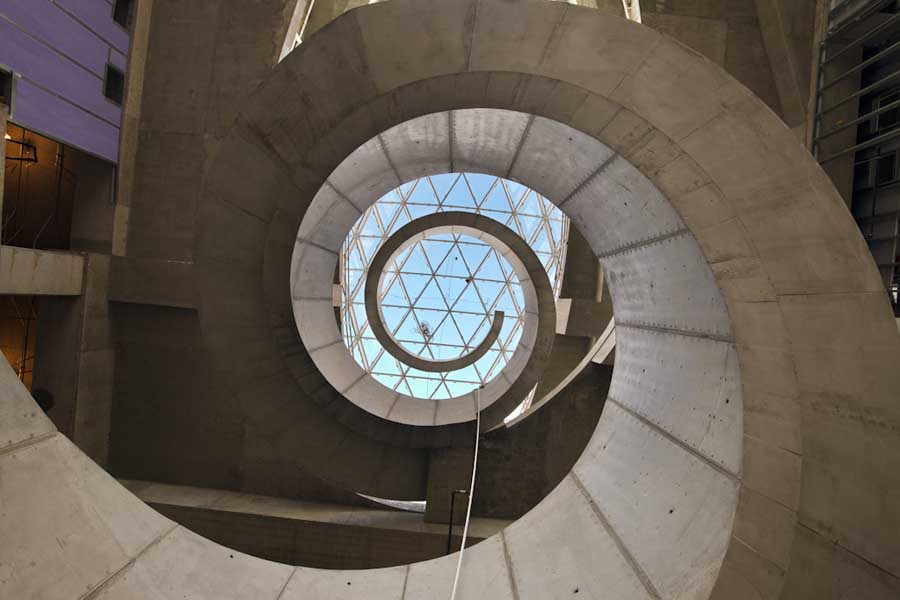 FRIDAY 10/18
Friday Night Clay at Morean Center for Clay
Spend your Friday evening playing in clay at the Morean Center for Clay! Be prepared to get dirty for two hours from 7-9PM. of wheel throwing and hand building. Bring a towel, your favorite beverage, and a group of friends or a date for a fun get-together. You'll get to select your favorite piece at the end of the night and they will bisque and glaze it for you to bring home. Purchase your tickets for $25 online today.
Friday Nights at the St. Pete Shuffleboard Club
It's not just for the older generation anymore! Join the fun at the world's largest shuffleboard club to see why this pastime has regained its popularity in the Sunshine City. Free every Friday night from 7PM-11PM, locals and visitors alike flock to this private recreational club. If you're not sure how to play, have no fear as volunteers are on hand to give you a lesson or two. Bring your own snacks and beverages – local craft beers tend to be a popular choice. There's often live music or a DJ on-site to keep you shufflin'. Children are welcome and so are well behaved dogs.
Inaugural Italian Food and Wine Fest
Join Gulf to Bay for Food, Fun, Live Music & all the pasta, pizza, cannolis and wine you can eat and drink! This event runs from 6PM to 10PM in Albert Whitted Park.
Hymn for Her at the Ale and the Witch
Head to the Ale and the Witch courtyard for another night of free live music and great drink options! The show happens from 8PM to 11PM. Check out Hymn for Her here.
SHINE St. Pete Mural Fest (Kickoff)
This year's annual festival will showcase new vibrant, creative and inspiring murals in St. Pete created by international, national and local artists. The new pieces will further enrich the city's public outdoor gallery, adding new styles-from colorful geometric patterns to delicately-rendered realism-all expertly painted on large walls and even on street intersections. This two week festival ends October 26th. For a full list of artists, mural locations, and events, check out our article here.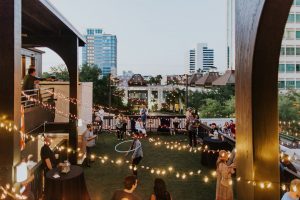 SATURDAY 10/19
Saturday Morning Market
The Saturday Morning Market is the largest weekly fresh market in the Southeast US, serving around 10,000 customers a week. The market includes 130 vendors, offering everything from fresh produce to homemade soaps to ready-to-eat food from 15 different cultures. The free-to-enter market runs from 9AM to 2PM every Saturday at Al Lang Stadium in downtown St. Pete.
St. Pete Walking Mural Tour
Hear the inside stories of the making of more than 30 murals found in the Central Arts District in downtown St. Petersburg. The four-block tour begins at Florida CraftArt, 501 Central Ave., each Saturday morning at 10AM and concludes at 11:30AM. Call 727-821-7391 or email gallery@FloridaCraftsmen.net to book a tour, which costs $19 for adults and $11 for children. A portion of the proceeds from the tours will be used to fund future murals.
Poolside Yoga and Brunch
If there weren't enough yoga options for you already, here's another: poolside yoga at the Hollander Hotel at 8:30 followed by brunch. Salute the sun with Allison Moonbeam Archer then cool off in the Hollander Hotel Downtown St Petersburg's beautiful pool. All levels are welcome for this slow flow class and mats will be provided as needed. $5 Body Electric monthly and annual members; $10 pre-registered; $15 at the door.
Drag Brunch
Head to the Iberian Rooster's SubCentral for a morning of food and entertainment! This weekly event starts at 11AM. Drag queens Adriana Sparkle, Nicole T. Lane, and Juno Vibranz bring the fun while you bring your appetite. Tickets are $25 and can be purchased here.
Out of the Darkness Community Walk
The Out of the Darkness Community Walk is a journey of remembrance and a walk that unites a community – a time to acknowledge the ways in which suicide and mental illness have affected our lives and our loved ones. The walk begins in South Straub Park. Registration at 8AM, walk begins at 10AM. Register here.
Making Strides Against Breast Cancer
Making Strides Against Breast Cancer is a celebration of survivorship – an occasion to express hope and shared determination to make this breast cancer's last century. Help finish the fight against breast cancer by raising funds for and walking with American Cancer Society Making Strides of Pinellas! The walk begins in Vinoy Park with checkin starting at 8AM and the walk starting at 9AM. Register here.
Caddy's on Central 90s Nickelodeon Costume Party
What was your favorite 90s Nickelodeon show? Rugrats? Doug? Legends of the Hidden Temple? or maybe even AHHHHH! Real Monsters! Pay tribute and dress up as your favorite character or contestant from the 90s Nickelodeon era in the spirit of Halloween! There will be a costume contest (with 2 $50 gift cards as prizes!) and plenty of fun drink specials to sip. This event runs from 9PM to 2AM.
THINK PINK Free Yoga at the Sundial
About 1 in 8 women will develop invasive breast cancer over the course of her lifetime. In 2019, an estimated 268,600 new cases of invasive breast cancer are expected to be diagnosed in women in the U.S., along with 62,930 new cases of non-invasive (in situ) breast cancer. Head to the Sundial from 9-10 AM for a FREE yoga class hosted by The Body Electric Yoga Company. Make sure to WEAR PINK to help bring awareness to the most common cancer in women. Check-in will start at 8:30 AM at the Sundial concierge desk. Please RSVP here: https://www.eventbrite.com/e/think-pink-free-yoga-at-sundial-st-pete-tickets-73810347737.
Green Bench Brewing Turns Six
Green Bench Brewing turns six, and the celebration is gonna be huge. Check out the festivities from 1PM to 11PM! The day also includes beer specials in the Tasting Room, Webb's City Cellar, and the Beer Garden. The itinerary is as follows:
1-4pm Brewery Tours
3pm- Local Roller Derby Girls will be passing our beer sampled throughout the evening
4pm- Sword Swallowing and Juggling Act
5:30-7:30- Mermaid Show – A must-see experience!
8-11pm- LIVE MUSIC featuring Queen of Ex (Hip Hop), King Complex (Electronic), and The Boats (Alternative)
Pops in the Park
Head to Vinoy Park for free music under the stars! Performed by the Florida Orchestra, the night features film scores, Broadway hits and symphonic favorites, conducted by Daniel Black.Whether you come with a date or the whole family, the music is just right. This event runs from 7PM to 9PM.
Bring plenty of canned goods for Tampa Bay Harvest!
BURN: Morean Street Party (SHINE Event)
Party on the street, in the heart of the eclectic Central Arts District of St. Petersburg, FL and feel the heat! Molten glass, street art and live music surrounds you as you interact with art and artists, sip craft cocktails and enjoy gourmet food. As an official SHINE Mural Festival Event, BURN will help illuminate the power of art in public spaces as well as bringing these talented street artists into the gallery. Guests will see featured artists work by BASK and JUJMO in the Morean Galleries, live glassblowing in the dark at the Morean Glass Studio plus interactive art throughout the evening.
This event is happening October 19, 2019 between 7-10 p.m. Tickets start at $50 and include hands-on art activities, live music, open bar, delicious street fare plus glassblowing in the dark at the Morean Glass Studio's Night Blow.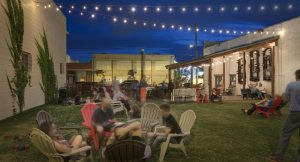 SUNDAY 10/20
Yoga at The Dali
Come with your yoga mat and get ready to be inspired! Join Lucky Cat Yoga at 10:30 AM every Sunday at The Dali Museum for yoga. Classes are held in the Raymond James Community Room or outside in the Avant-garden, both with incredible views of the waterfront. The cost to participate is $10 for members and $15 for non-members. Tickets can be purchased at the Member's desk.
Mimosas & Masterpieces: Brunch at the Dali
Raise a glass to an artistic take on Sunday Fundays at Café Gala with Mimosas & Masterpieces! Enjoy a Catalan-inspired brunch, visit the galleries, stroll the grounds, contemplate the Avant-garden, browse the Museum Store and soak in all the brilliance of the world-famous Dali Museum. Enjoy this inspired brunch between 11AM to 4PM. Visit the Facebook event page here.
Movie Night at Green Bench
Movie Night at Green Bench Brewing Co. Showing of the 2012 film adaptation of Jack Kerouac's novel of the same title. This event is free and open to the public. Bust out the pop-corn, bring your own chair, blanket or pillow and join the fun! Event starts at 6:30PM.
Open Streets St. Pete
Check out Bayshore Drive for a free, car-free event in Downtown St. Pete! Bike, walk, run, skate, hop, dance, stroll – the opportunities are endless – on the streets of St. Pete. There will be music, food, and fun for all.
Throughout the country and the world, cities are hosting "Ciclovia" or "Open Streets" events. Streets in unique parts of the city are shut down to automotive traffic for an afternoon, or a day, and opened up to the general public, free of charge, for a safe and fun opportunity to walk, stroll, skate, bike, skateboard, wheelchair, or just hang out.
The intent is to take one of the city's largest open spaces (the streets) and make a safe and creative space for people to participate in healthy and fun activities while also gaining a unique perspective of the city in which they live.
This event runs from 11AM to 4PM.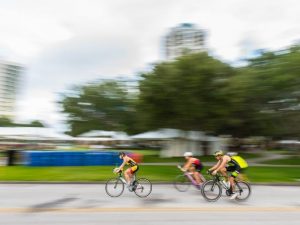 MUSEUMS
Before Dali: Goya – Visions and Inventions
Francisco Jose de Goya y Lucientes (1746-1828) is one of the most important Spanish artists of the late eighteenth and early nineteenth centuries, celebrated for his revolutionary paintings, drawings and engravings. Goya's life and works deeply influenced Salvador Dali in his early years, and are considered by many scholars to be the basis for "modern" art, bridging Classicism and Romanticism. Before Dali: Goya – Visions & Inventions, sponsored by Tampa International Airport,  features two alternating suites of first-edition prints, published in Goya's lifetime, alongside three significant paintings representing unique themes of Goya's works. The works are on loan from the Meadows Museum, Dallas, TX, home of one of the most substantial collections of Goya. This exhibit runs through November 3rd.
This exhibit now includes a second component: La Tauromaquia. "La Tauromaquia" (1816) is a suite of prints depicting the evolution and history of bullfighting on the Iberian Peninsula. Goya created "La Tauromaquia" between 1815 and 1816, at the age of 69. "Los Caprichos", a series he had created previously, served as visual criticism on subjects concerning war, superstition, and contemporary Spanish society generally, including anticlerical scenes. Because of their sensitive subjects, few people had seen these works during Goya's lifetime. Bullfighting was not politically sensitive, and the series was published in an edition of 320—for sale individually or in sets—without incident. It did not meet with critical or commercial success. The artist focuses on the violent scenes that take place in the bullring and the daring movements of the bullfighters. The events are not presented as they are viewed by a viewer in the stands, but in a more direct way.
Flavors of Spain: Photos by Chef Chuck Bandel
The Dalí Museum presents an exhibition featuring food photography and behind-the-scenes looks at restaurant life by Café Gala Chef Chuck Bandel. Bandel's trips to northern Spain in the summers of 2017 and 2018 allowed him to study in Catalonia at Chef Paco Pérez's 2 Michelin star restaurant, Miramar, and in the outskirts of the Basque town of San Sebastian at the Restaurante Martin Berasategui. Find this exhibit in the Raymond James Community Room.
Imagined Realities – Virtual Reality at the Imagine Museum
Check out the newest addition to the Imagine Museum: virtual reality exhibits. With five fun, educational options (Google Tilt Brush, Google Earth VR, The Body VR, Apollo 11 VR, and Overview VR), visitors can create stunning 3D artwork, explore the solar system, or visit studio glass hotspots. Make 20 minute reservations online or at the front desk. The Apollo 11 exhibit is available at a reduced $5 price for the month of July and all other exhibits are available for $10 each. This runs from 5PM to 7:40PM on Thursdays and 10:30AM to 4:30PM on Saturdays.
Beaches, Benches and Boycotts
Beaches, Benches and Boycotts" is an original exhibition of The Florida Holocaust Museum. The focus of most Civil Rights history is written about places like Alabama and Mississippi, as if few challenges occurred elsewhere. Tampa Bay remained racially segregated at the dawn of the Civil Rights era and many local institutions and establishments held out on integration for several years after Brown vs. the Board of Education and the Civil Rights Act of 1964. Under "Jim Crow" every aspect of African American life in Tampa, St. Petersburg, Sarasota and their surrounding cities was segregated. Restricted covenants were in place that segregated residential neighborhoods. African American children had to attend segregated schools that were under-funded and often in disrepair. Blacks could only be cared for at "Black only" hospitals, and other public and private establishments like restaurants and beaches were often segregated – if blacks were allowed in at all. The Civil Rights Movement in Tampa Bay may have had characteristics similar to other areas of the South but its stories are its own. This exhibition will illuminate our region's struggle with racial equality and shine a light on the local leaders who changed our cities.
The Grasshopper and The Ant and Other Stories: A New Installation By Jennifer Angus at the Museum of Fine Arts
Jennifer Angus (b. 1961), one of the most important installation artists working in contemporary art today, challenges our perceptions and expectations by working in an unusual medium: dried, exotic insects. She creates dramatic and startlingly beautiful effects by incorporating large, brilliantly-colored insects into elaborate patterns inspired by Victorian wallpaper and nineteenth-century book illustration. For this immersive, MFA-commissioned project, Angus will use Aesop's fable 'The Grasshopper and the Ant' as its starting point. This exhibition will run through January 5th.