As we're sure you've noticed by now, it's time for the holidays in St. Pete! If you need some shopping inspo, you've come to the right place. We've made a list of some of the best places around Beach Drive + DTSP to fill all of your gifting needs. Happy shopping!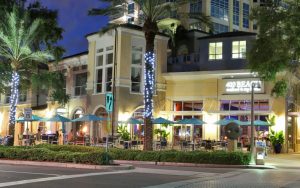 Naples Soap Company
Check out Naples Soap Company for the hair and skincare guru in your life (or just to pamper yourself – we definitely won't judge)! This little gem sells everything from hand scrubs to shampoo bars and bath bombs, catering to even the most sensitive skin types. Perfect for stocking stuffers, this shop is a great stop to add to your holiday list!
Naples Soap Company website.
Naples Soap Company Google Maps.
Annex 400 Beach
Not just a great stop for drink or a bite to eat, Annex 400 Beach is stocked with awesome gift options! Shop St. Pete souvenirs, local art, and other fun stuff right on Beach Drive. If gift cards are more your style, take advantage of the shop's fabulous holiday offer – for every $100 gift card purchase, get a certificate for free Sunday Brunch at 400 Beach.
Annex 400 Beach website.
Annex 400 Beach Google Maps.
Dalì Museum and Museum of Fine Arts Gift Shops
With two amazing museums right along St. Pete's beautiful waterfront, it's almost like the shopping experience is a present to yourself! Find gifts for art lovers of all ages and interests, from books to clothing and much more. Both stores are open to the public (no admission required!).
Dalì Museum website.
Dalì Museum Google Maps.
Museum of Fine Arts website.
Museum of Fine Arts Google Maps.
St. Pete Store
Like Annex 400 Beach, the St. Pete Store is filled to the brim with local-themed goodies. The perfect stop for stocking stuffers, this little shop is a can't miss for St. Pete lovers. Grab some city t-shirts, locally made trinkets, and more in the heart of St. Pete!
St. Pete Store website.
St. Pete Store Google Maps.
Locale Market
St. Pete will definitely miss this local gem! Stop in before the famous Locale Market closes its doors. Stock up on stocking stuffers like mugs and soaps, or go big with treats like charcuterie boards for the adventurous chef or delicious sauvignon blanc for the wine connoisseur.
Locale Market website.
Locale Market Google Maps.
Saturday Morning Market
What are the holidays in St. Pete without this St. Pete staple? Head to the Saturday Morning Market for just about everything you could hope to find! Check out local artists, handmade goodies, fresh food and more.
Saturday Morning Market website.
Saturday Morning Market Google Maps.
Off Beach Stops
If you don't find what you need on Beach Drive, you can probably find it in the other districts of Downtown St. Pete! Here are some of our favorite stops.
Tombolo Books
With their brand new brick-and-mortar store, this shop is a can't miss for any book lover. Treat your loved ones (or yourself!) to a new book. The store also offers complimentary gift wrapping, perfect for your last-minute shopping.
Tombolo Books website.
Tombolo Books Google Maps.
Rocket Fizz
This new stop in St. Pete is filled to the brim with funky, fun gifts! From Sriracha chocolate bars to Snooki colas and vintage tin signs, Rocket Fizz makes for a great shop to add to your list.
Rocket Fizz website.
Rocket Fizz Google Maps.
Paint Nail Bar
Need a spa day after the holidays? We know we will! A gift certificate to Paint Nail Bar makes for a fabulous stocking stuffer. This fume-free environment is great for even the most sensitive hands.
Paint Nail Bar website.
Paint Nail Bar Google Maps.
Daddy Kool Records
Daddy Kool's new location in the Warehouse Arts District means even more vinyl finds than before! Head over to grab new and old albums, vinyl players and care kits, or some awesome DK-themed regalia for your record shop lover.
Daddy Kool website.
Daddy Kool Google Maps.
Studio@620 Holizaar
Don't miss out on this once-a-year event! Head to the Studio@620 for handcrafted gifts and goodies from local artists. This goes down from 11AM to 5PM Saturday, Dec. 21. More information here.
Studio@620 website.
Studio@620 Google Maps.