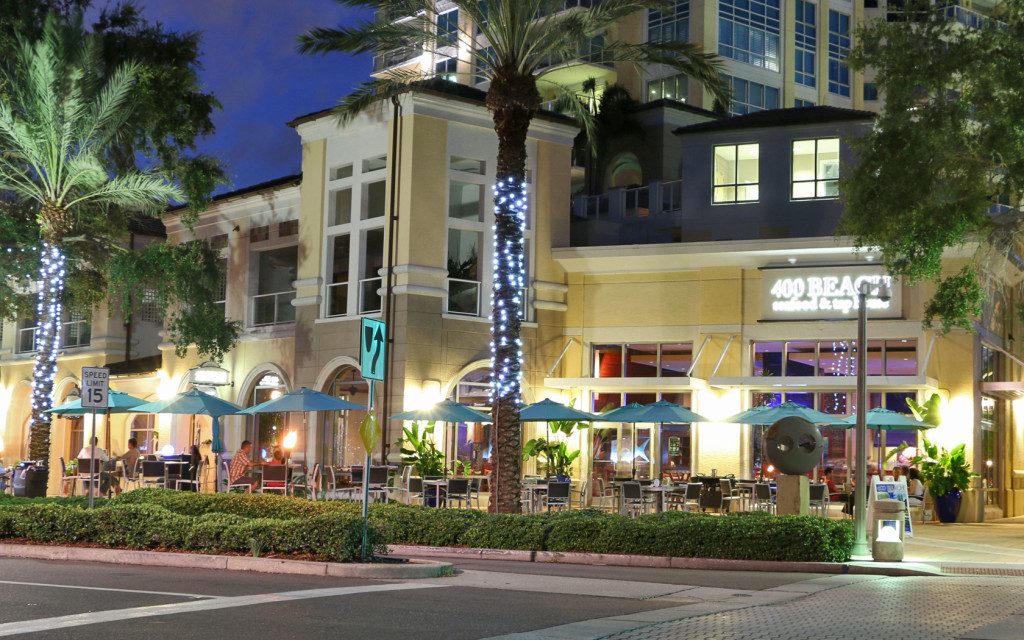 Welcome to the enchanting world of holiday shopping on Beach Drive in St. Petersburg, Florida – a destination where the festive spirit meets the tropical allure of the Sunshine City. As the holiday season unfolds, Beach Drive emerges as a vibrant shopping haven, adorned with twinkling lights, festive decorations and a unique blend of boutiques, galleries, and specialty stores. This guide will help you explore the curated offerings, local treasures and warm holiday ambiance that make Beach Drive a must-visit destination for those seeking the perfect gifts and unforgettable shopping experiences.
Annex 400 Beach
Not just a great stop for a drink or a bite to eat, Annex 400 Beach is stocked with awesome gift options! Shop St. Pete souvenirs, local art, and other fun stuff right on Beach Drive.
Annex 400 Beach website
Annex 400 Beach Google Maps
Adventures in Paradise Outfitters
Adventures in Paradise aims to "outfit those adventurers, travelers and poolside loungers who think outside the box." This sidewalk-to-yacht store opened on Beach Drive in 2019 and offers head-to-toe options for the whole family.
Adventures in Paradise website
Adventures in Paradise Google Maps
Bernie's & Son Jeweler
Bernie's & Son Jeweler is a local family-owned and operated jewelry store. For more than 35 years, they have offered competitive prices on high-quality designer jewelry, jewelry repair, watches and more. Breathtakingly beautiful custom jewelry designs, combined with Southern hospitality, make Bernie's & Son a treasure among jewelers. Get a show-stopping gift that's sure to put a smile on anyone's face for the holiday season.
Bernie's & Son website
Bernie's & Son Google Maps
Coastal Soul Boutique
Coastal Soul is a women's boutique owned and operated by Missy Hardy, a mom who loves clothes and making people feel good! Coastal Soul stocks clothing lines with the intent of allowing women of all ages and backgrounds to create a confident, individualistic style. Coastal Soul carries the latest fashion and trends in women's clothing, swimwear, accessories and gifts.
Coastal Soul website
Coastal Soul Google Maps
Dalì Museum and Museum of Fine Arts Gift Shops
With two amazing museums right along St. Pete's beautiful waterfront, it's almost like the shopping experience is a present to yourself! Find gifts for art lovers of all ages and interests, from books to clothing and much more. Both stores are open to the public (no admission required!).
Dalì Museum website
Dalì Museum Google Maps
EnnYe
Owned and curated by two talented sisters from Zimbabwe, EnnYe is a treasure trove of unique clothing and home goods adorned with striking African prints, coupled with an awe-inspiring art gallery showcasing the timeless beauty of Shona stone artwork.
EnnYe website
EnnYe Google Maps
Jackie Z Style Co.
Jackie Z Style Co. is a luxury boutique specializing in women's and men's fashions. Jackie Z is one of the few stores in St. Pete that carries brands like Gucci, Alice & Olivia, Ramy Brook, Louis Vuitton, Robert Graham, Vintage Chanel, Milly, Frame, Theory and Psycho Bunny. Jackie Z recently expanded its selection of home decor and gifts, as well!
Jackie Z website
Jackie Z Google Maps
Luca Italian Leather
Luca Italian Leather is a Beach Drive staple that offers premium leather goods made in Italy. Styles for men and women include one-of-a-kind designs, unique purses, boots, jackets and clothing.
Luca Italian Leather website
Luca Italian Leather Google Maps
Museum of Fine Arts
One of our favorite stores in the city is the MFA gift shop. They've curated a beautiful selection of hard-to-find gifts, and have managed to find something for everyone. Many pieces are locally made and some support Creative Clay — a local arts initiative to make art accessible to all. Books, jewelry, homewares and curiosities await the discerning gift buyer.
MFA website
MFA Google Maps
Pippa Pelure
Pippa Pelure boutique stocks a wide variety of unique and stylish attire and accessories for the modern woman, including clothing, handbags, jewelry, shoes and gifts.
Pippa Pelure website
Pippa Pelure Google Maps
Pink Soleil
Pink Soleil is a fashion boutique offering a curated collection of brands that capture the essence of sunny days and beachfront elegance. Pink Soleil is truly a celebration of the Florida lifestyle with its meticulously curated collection of brands like Lilly Pulitzer, Sail to Sable, Julie Vos Jewelry and more.
Pink Soleil website
Pink Soleil Google Maps
Sartorial, Inc.
The family-owned shop is the brainchild of owner Jose Martinez and his son Jelani, who bring a combined 30-plus years of experience in business and fashion to their storefront at 400 Beach Dr. NE. Sartorial lives up to its name, offering custom suiting and curated collections of luxury menswear to shoppers looking for top-tier clothing that can be worn year-round.
Sartorial website
Sartorial Google Maps
Saturday Morning Market
What are the holidays in St. Pete without this St. Pete staple? Head to the Saturday Morning Market for just about everything you could hope to find! Check out local artists, handmade goodies, fresh food and more.
Saturday Morning Market website
Saturday Morning Market Google Maps
Savory Spice Shop
Savory Spice is a franchise that started in Colorado and now operates in nearly 30 locations across the United States, including 400 Beach Drive. The store stocks a wide variety of unique spices, spice blends, exracts, sauces and gift sets. This is the perfect place to pick up an out-of-the-ordinary gift for your favorite foodie!
Savory Spice website
Savory Spice Google Maps
Shapiro's Gallery
Shapiro's Gallery
features the finest work of over 250 American Artists and Craftsmen. This longtime Beach Drive haven boasts a collection of handcrafted Jewelry, Glass, Clay, Wood, Jewelry Boxes, Clocks, Yard Art, Judaica, Metal Sculptures and Home Accessories.
Shapiro's website
Shapiro's Google Maps
St. Pete Store
Like Annex 400 Beach, the St. Pete Store is filled to the brim with local-themed goodies. The perfect stop for stocking stuffers, this little shop is a can't-miss for St. Pete lovers. Grab some city t-shirts, locally made trinkets, and more in the heart of St. Pete!
St. Pete Store website
St. Pete Store Google Maps
Style
Style is the sister store to the popular Sartorial Inc. Style is a "value premium" store geared towards younger men between the ages of 20 and 35, stocking dress shirts, slacks, formal and casual shoes, and accessories.
Style website
Style Google Maps
Vogue Society
This mother-daughter-owned boutique is filled with bright, fun, and playful clothing, accessories, shoes, jewelry and the perfect holiday gifts.
Vogue Society website
Vogue Society Google Maps