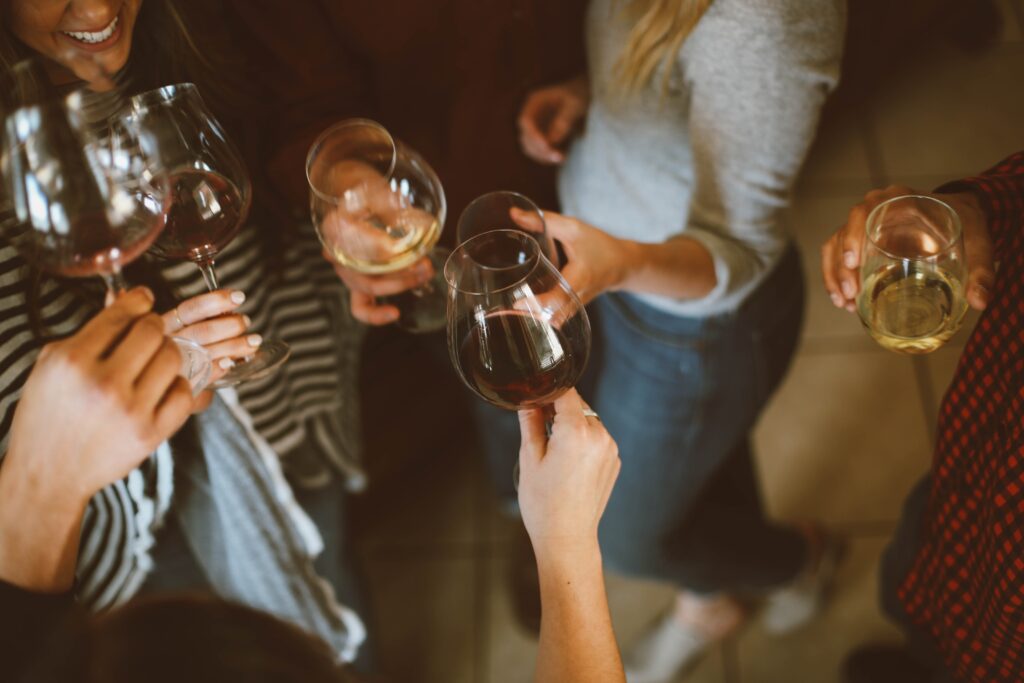 Who doesn't love a good Happy Hour? We know we do – and Beach Drive has some of the best in St. Pete! Here's our comprehensive list of Happy Hour specials in the thriving heart of St. Petersburg.
400 Beach Seafood and Taphouse
400 Beach is temporarily closed for renovations, but we can't wait to see what they have coming soon!
400 Beach Seafood and Taphouse website
400 Beach Seafood and Taphouse Google Maps
The Ale and the Witch
The Ale and the Witch hosts "Witching Hour" every weekday (except holidays). From 4 p.m. to 7 p.m. Monday through Friday, all tap beers and 14 different wines by the glass are $5!
The Ale and the Witch website
The Ale and the Witch Google Maps
Allelo
Allelo is your neighborhood spot for Mediterranean-Aegean small plates, good times and lots of wine. Here are Allelo's specials:
Pintxo Hour: Monday-Thursday 5pm-6pm at the bar, enjoy complimentary small bites every 15 minutes.
Brunch Bubbles: Saturday-Sunday 11:30am-2:30pm, 50% off sparkling wine bottles $150 and under
Allelo website
Allelo Google Maps
Bacchus Wine Bistro
Bacchus Wine Bistro is an oasis of Old World charm with a wine library boasting nearly 100 selections from France, Italy, Spain, the U.S. Enjoy happy hour every day from 3-6 p.m with $4.50 small plates and glasses of house wine.
Bacchus Wine Bistro website
Bacchus Wine Bistro Google Maps
BellaBrava
Pair delicious Italian cuisine with fantastic Happy Hour prices at BellaBrava! The restaurant's daily Happy Hour runs from open until 7 p.m. Draft beers are $3.49, well drinks are $3.99, house-made sangria is $6, and house wine is $6 (6oz) or $8 (9oz).
BellaBrava website
BellaBrava Google Maps
The Birchwood
Enjoy a beautiful view and fabulous deals with the Birchwood's weekday Happy Hour! Monday through Friday from 4 p.m. to 7 p.m., enjoy $3 select beers, 1/2 off wine under $10, and 1/2 off signature cocktails and sangria. On Wednesdays from 7-10 p.m., enjoy the "Midweek Mingle" with $7 to $8 select cocktails.
The Birchwood website
The Birchwood Google Maps
Cassis
Check out Cassis for one of the best Happy Hours around! Monday through Friday from 4 p.m. to 7 p.m. and Tuesday from 4 p.m. to close, enjoy $3.50 well drinks and select red & white wines, $4.50 select beers, and $5.50 select martinis & sparking wine.
Cassis website
Cassis Google Maps
Ceviche
Enjoy bar & bites specials for $6-$8 from 3-6 p.m. every day. Bar specials include wine, single well cocktails, sangria, and more. Ceviche patrons can also snack on discounted tapas like patatas bravas, pan con tomate, albondigas, and other favorites.
Ceviche website
Ceviche Google Maps
Dracula's Legacy Wine Bar
This fun, themed wine bar offers fantastic Happy Hour specials. Every day from 4-7 p.m., enjoy $6 house wines!
Dracula's Legacy Wine Bar website
Dracula's Legacy Wine Bar Google Maps
Flute & Dram
Head over to St. Pete's caviar, champagne, and whiskey bar for Happy Hour! Flute and Dram's specials happen Monday through Friday from 4PM to 7PM for half priced champagne bottles and 25% off bar offerings.
Flute and Dram website
Flute and Dram Google Maps

Novu Bistro Bar
Novu Bistro Bar serves a unique combination of small plates and Italian dishes. Situated in the heart of St. Petersburg, between Beach Drive and Central Avenue, next to the historic Ponce de Leon Hotel. Tuesday through Friday from 4-6 p.m., Novu serves up $6 select drinks, $5 wines, and $9 bites.
Novu Bistro Bar website
Novu Bistro Bar Google Maps
Parkshore Grill
Check out Parkshore's award-winning wine list and enjoy Happy Hour specials on weekdays! Monday through Friday from 3PM to 6PM, take $2 off all mixed drinks and $1 off all beers.
Parkshore Grill website
Parkshore Grill Google Maps
Ruth's Chris Steak House St. Pete
Ruth's Chris's Happy Hour spans a variety of $9 deals and drink specials. Monday through Friday as well as Sunday from 4:30PM to 6:30PM, dine on $9 crab beignets, a steak sandwich with fries, zucchini fries and more. Also enjoy $9 specialty cocktails like the Ruth's Manhattan or Gin Basil Smash. For the full Happy Hour menu, visit here.
Ruth's Chris Steak House St. Pete website
Ruth's Chris Steak House St. Pete Google Maps
Sea Salt St. Pete
Check out one of the most extensive Happy Hour menus in the area! From 3PM to 6PM daily, take up to 50% off the bar menu, enjoy $8 cocktails, $5 draught beers, $6 well drinks, $7 sparkling, rosé or white wine, $8 red wine, and 1/2 off a bottle of muscadet with purchase of a dozen oysters, expertly paired by Sea Salt's sommelier. Check out the full Happy Hour menu here.
Sea Salt St. Pete website
Sea Salt St. Pete Google Maps
Stillwaters Tavern
Stillwaters offers great Happy Hour prices to complement delicious dishes. Every day from open until 7 p.m., enjoy $1 off draft beer, $7.50 6oz wine or $10.50 9oz wine, $5 glasses of bubbly, and $4 well drinks.
Stillwaters Tavern website
Stillwaters Tavern Google Maps
TRY WINE Bar
Head to St. Pete's wine-tasting lab and bar to TRY some fabulous deals! Happy Hour runs from Tuesday through Thursday from 5PM to 8PM as well as all day on Sundays. Enjoy $5 glasses of 10 select wines.
TRY WINE Bar website
TRY WINE Bar Google Maps
Tryst Gastro Lounge
This vibrant spot on Beach Drive offers awesome Happy Hour specials! Tryst's Happy Hour happens Monday through Friday from 4PM to 7PM. Take 50% off house wines, select draft beers, and well liquors. Also check out discounted appetizer specials – $2 Za'atar Spiced Crispy Chickpeas and House Pickled Vegetables, $3 Crispy Shrimp Chips, $4 Blistered Edamame, and $5 Truffle Fries. Also check out these weekly specials:
SIN (Service Industry Night) Monday: Hospitality employees enjoy 40% off the bill (Excludes bottles of wine and bottles of sparkling) from 4 p.m. to 3 a.m.
Monday food specials: c$5 truffle fries, $4 blistered Edamame, $5 Dips Hummus/tzatziki or both for $10 with grilled pita from 4-7 p.m.
Wine Down Tuesday: Half Price Charcuterie & Bottles of Wine (Under $80) Excluded Bottles of Sparkling from 4 p.m. to 1 a.m.
Taco Tuesday: Enjoy $10 all tacos Birra (beef), crispy cantina chicken, Baja and tuna tacos all day
Tequila Thursday: $5 House Margaritas, House Strawberry Margaritas & House Tequila Shots from 7 p.m. to 1 a.m.
Sunday Specials: Get a Football/ Basketball Platter for $30, which includes beef, pork, maple hot crispy chicken sliders, wings, and crispy tuna bites (all day).
Tryst Gastro Lounge website
Tryst Gastro Lounge Google Maps
Go on, check out some of the best deals on Beach Drive. We won't tell if you stop at a few in one go – not with prices and menus as tempting as these!