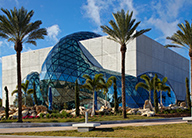 Start: Jul 08, 2020
Finish: Jul 08, 2020
Mornings at The Dalí: Special Hours for Seniors
The Dali Museum invites visitors 65 and older to enjoy the Museum from 10-11 am on Wednesdays and Thursdays.
Seniors 65+ also save $2 on adult admission to the Museum anytime. Purchase your advanced timed ticket and bring your ID to the Museum.
Please note, the Museum has implemented a variety of health and safety precautions for our visitors, staff, members and volunteers. We have also made changes to our hours, ticketing and Museum experience, which you can read more about here.