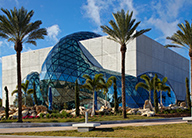 Start: Jan 07, 2021
Finish: Jan 07, 2021
amazon prime watch party
In conjunction with our special exhibition Van Gogh Alive, we invite you to join us for an in-depth look at Vincent van Gogh's work through the eyes of experts in this special episode of the series Exhibition on Screen: History's Greatest Painters. Join us online for the stream and live chat as we learn about new research and discoveries that are reshaping how we view Van Gogh and his work.
To join this event, you must have an Amazon Prime account and a laptop or desktop computer for viewing. See common frequently asked questions (FAQs) below or find more details on Amazon Watch Parties here.
Following registration, a link to stream will be shared 10 minutes prior to showtime to the email address provided.